Posts Tagged 'Indie Film'
The Omaha indie filmmaking scene is not very active, especially when it comes to features.  One of the few homemade feature projects to get made here and nationally distributed is For Love of Amy, a sentimental pic written and produced by its lead actor, Vincent Alston.  While not a memorable work, the film's storytelling is effective and the project is notable for simply defying the odds and being realized on screen and actually netting soome screenings and now a DVD release.  My story below was written a couple years ago as the film's production wound down.  Alston attracted name talents in Ted Lange and John Beasley to direct the film and to essay a supporting role, respectively. The picture did attract enough notice to earn Alston the Mid-Atlantic Black Film Festival award for most outstanding first film and I wouldn't be surprised if Alston is heard from again.
Sometime soon I will be posting a short story I wrote about another filmmaker with Omaha ties, Patrick Coyle, who has made a serious splash with the indie features he's written and directed.  The biggest impact Nebraska filmmakers have made in recent years are by Alexander Payne, whose first three features were made in Omaha and whose next film, Nebraska, will be made in the mostly rural environs of the state's central-western panhandle region, and Nik Fackler, whose Lovely, Still is finally finding large audiences via cable and DVD.  This blog is full of stories about these and other filmmakers with Nebraska ties, including Joan Micklin Silver, Gail Levin, and Charles Fairbanks.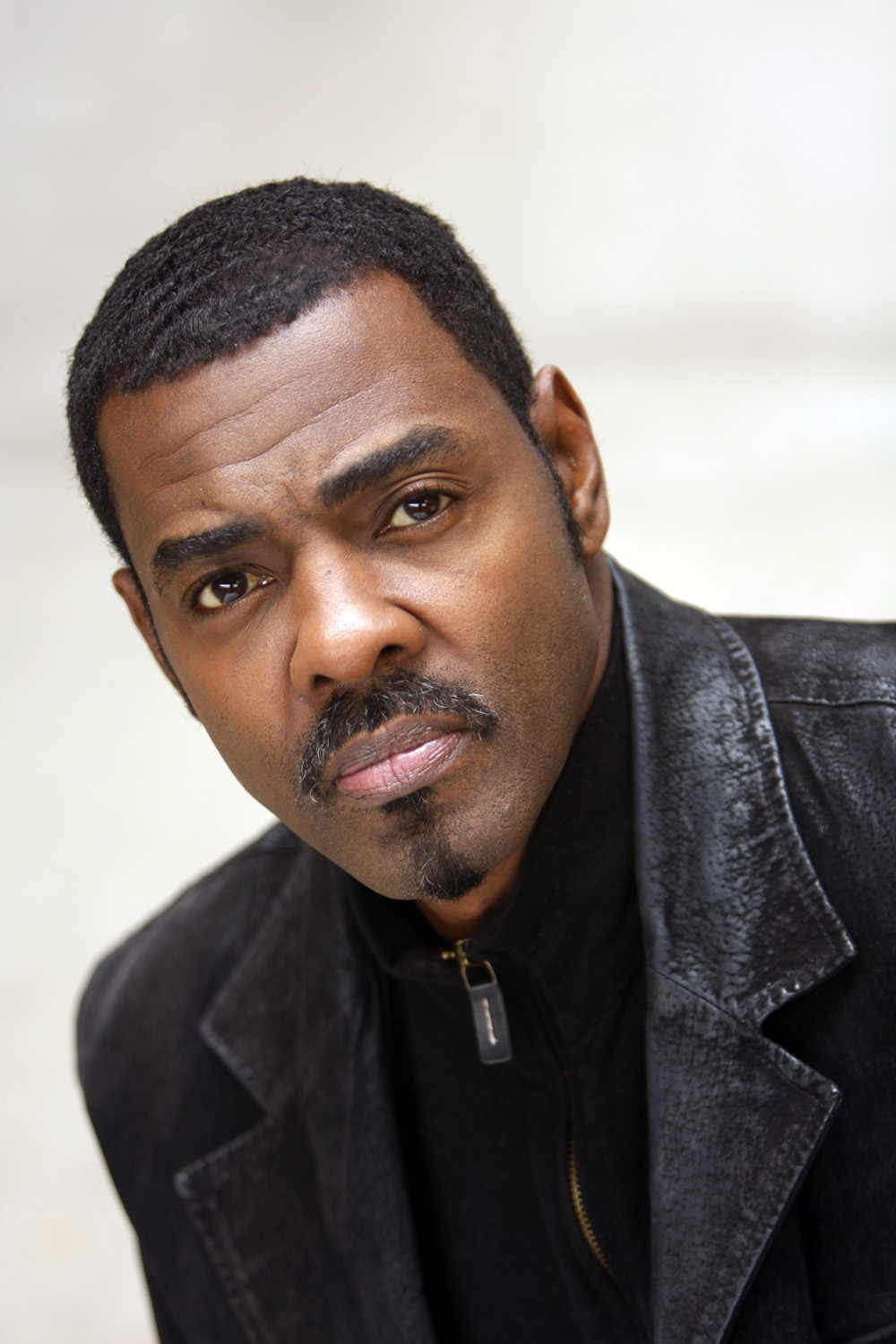 Vincent Alston's Indie Film Debut, 'For Love of Amy," is Black and White and Love All Over
©by Leo Adam Biga
Originally published in The Reader (www.thereader.com)
On a recent Saturday morning at the University of Nebraska Medical Center director Ted Lange and crew worked efficiently to get their shots for the indie film For Love of Amy. Lensing in Omaha and environs since mid-June, the crew needed few takes. A satisfied Lange would say, "Print it…Movin' on" and the troops rigged things for the next set-up. Far removed from his Love Boat days, the savvy Lange, bedecked in ball cap, blue jeans and athletic shoes, wore a T-shirt adorned with Laurence Dunbar, the subject of a one-man show he conceived and performs.
Screenwriter-producer-star Vincent Alston of Omaha was a quiet, intense presence on set, where he wore a deep blue suit as Michael. Alston seemed wide-eyed about the whole process, understandable given this is his first film and his ass is on the line three ways. He watched things closely and after takes often drew Lange aside to confer about what approach was best.
The concept behind the film will make you go either, "Ewww" or "Awww." Michael (Alston) is black and his best friend Ryan is white. The dying Ryan extracts Michael's promise to be there for Ryan's 9-year-old daughter, Amy. Ryan dies and his widow suffers a breakdown. In steps Michael. Then a revelation about the child's birth mother throws your expectations askew.
It reads like a treacly, weepie Lifetime message pic. All the racial, sentimental gravitas could be thoughtful or deadly, depending on how it's handled.
Audiences must judge if Alston and Lange lift the material above the sweetly banal. Alston has the acting chops to make Michael, the single black man who takes Amy into his life a believable figure. Alston's impressed on the John Beasley Theater stage and as Malcolm X in the one-act play The Meeting. Still, his debut script arguably reads like many well-intentioned social-humanist dramas you've seen.
Lange, who played Isaac on the network television chestnut, Love Boat, is a veteran TV and theater director and the author of 21 plays. The San Francisco resident has directed and starred in a film version of Othello. Scenes from his new play George Washington's Boy were read at the recent Great Plains Theatre Conference (GPTC). In 2005 he came to Omaha to direct his own play, Four Queens and One Trump, at the JBT. So he has the creds, as he said, to "make this thing work."
How Alston, a Jersey native, got to this point is a story itself. He worked in corrections back east and when he moved here in the '90s. His entree to acting came when, "on a whim," he took a class. Bitten by the bug, he found his niche in naturalism. He made his living in computers while pursuing his theater passion. He now has his own company, VLA Productions, that creates video-Internet visuals and produces stage works, notably Jeff Stetson's The Meeting, a work Alston's now identified with. The piece depicts a hypothetical meeting between Malcolm X and Martin Luther King, Jr.. He staged and starred in a production of it at the GPTC.
Alston's been writing a few years now, drawing on experiences from his own life. He and his wife Pamela actually care for children not of origin and not of the same race by serving as foster parents. "We've had all kinds — Native American, white, biracial, the whole gamut," he said. Currently they care for two Sudanese youths. Alston and his wife also have a son and daughter of their own.
His Beasley Theater contacts led him to give his script to Lange, who responded to it. "I love the different worlds that are really present side by side in it," Lange said. "The fact that Michael is black and his best friend is white. The fact that Michael is raising his best friend's kid. The twist that comes in there at the end about the child's mother. It does have some nice little turns in it."
Lange said he also liked the challenge of finding ways to avoid any cliches bound up in the story and in the characters.
"That where your art comes in," Lange said. "There's a couple little things we had to tweak. That's collaboration. That's Vince saying, 'Now, Ted, I need this to happen,' and me saying, 'Oh, we can do that with just a little bit of this.' It's like I told Vince, 'I'm going to make some suggestions to you. If I can't tell you why, you go tell me to fuck myself. Don't do it. But if I tell you something and you ask me why and I give you an answer, you gotta at least give me honest consideration, and that's how we've been working. It's good."
Lange said the cast is good enough to avoid playing one-note characters. "We've got wonderful actors that can deliver the goods. I'm really excited by the fact we've got people who can help me tell the story and can play against the words — start out in one direction and then evolve into this other direction," he said.
Besides Alston, there's strong local talent in the cast, including veteran film-TV-theater actor John Beasley in the scene-stealing role of Tate, Tyrone Beasley as X and Lindsay Seim as Kat. Lange was blown away by Omaha actress, Melissa Epps, whom he cast in the role of Claire, ostensibly the heavy of the piece.
Some punch was lost with the late drop out of stage-screen actress Mikole White (She Hate Me), whose role as Jas, Michael's girlfriend, is being filled by New York actress Joyce Sylvester (Crackin' Green). The fact that established talent signed on indicates Alston's script works on the page. The fact there's a racially mixed cast and crew and the story depicts African American professionals living outside strictly "black Omaha" makes the project fairly unique in local filmmaking circles.
Despite the black-white dynamic that frames the story, Alston insists — and his script bears him out — the film is not about race. Instead, he likes to say it's a story about "doing the right thing when you don't know what right is."
As Lange said, "Ultimately, you know what the right thing to do is, whether it's profitable or satisfying or all those other things. But sometimes it takes a lot of guts to really do what's right, and not let your ego, your pride get in the way, and to me that's what this movie is. Does Michael have the guts to do what's right?"
Alston got the idea for the story after a party in which a little white girl he didn't know came up to him and spoke to him "like I was her best friend in the world," he said. "It was intriguing this child could have this conversation with me and it got me thinking, Could we have that same conversation 10 years hence? Or would society's prejudices have so impinged on her psyche that those inevitable walls that go up among people who are different prevent it? That was the genesis for it."
The only racial tension in the film comes in the form of Amy's maternal grandmother, Claire, who opposes Michael, and from X, a black friend of Michael's who reminds him of certain realities in America; namely, that a single black man raising a white girl may not fly.
The scene shot at UNMC takes place in a hospital waiting room, where Claire, her husband Frank and their granddaughter Amy keep vigil over Ryan, who's asked to see Michael. Michael arrives just as Claire expresses her dislike of him to Frank — "I'd sure like to know what in hell makes him so damn special. He's not even family. I've got half a mind to…". Upon seeing Michael, it's clear Amy loves her "uncle." Epps well underplays the antagonistic role of Claire and Grace Bydalek is thankfully unaffected as Amy. Race becomes subtext as much as pretext for the action.
Alston, who's experienced first hand the politics of race as both a victim of profiling and as a cog in the racially skewed penal system, doesn't so much concern himself with black-white as human considerations.
"My philosophy is I want to do entertainment that draws on the best in people, not the worst, that challenges people to be better…I think Michael in the film is challenged to be a better person," he said. "At the end of the day he realizes this isn't about affirming himself, it's about a little girl and what's best for her."
Alston found himself challenged to heed his better self while a guard at the New Jersey State Home for Boys at Jamesburg (NJ) and working maximum security at the adult Douglas County Correctional Center (Neb.). He didn't like what the job did to him. "It will jade you," he said. "Dealing with the worst all day, every day…to see human beings reduced to animals, particularly seeing people who look like me reduced to that, and not even care anymore, and to be proud of it — I had to get out of there. I hit a point where really the bottom dropped out of my life."
Luckily he had someone looking out for his best interests at Jamesburg.
"My boss and my mentor was a Muslim and he just taught me so many life lessons. He told me, 'Vince, don't stay here, this isn't for you. There's something greater out there — you just gotta go get it.'
Alston quit. On the advice of a friend who lived in Omaha, he moved here. In need of a job, Alston worked as a guard at the county correctional facility, but when he saw the same thing happening to him again he quit after only a few months. "It was a nightmare," he said. "It was like, 'I can't stay here.'" That decision turned his life around. Within short order he took computer classes at Metro that steered him onto a new career path and he met his future wife.
After transferring to the University of Nebraska at Omaha he took an acting class as an elective and found a whole new passion. "I fell in love with it. It was like a light went on. You hear how people have epiphanies? That was me," he said. "I remember I did my first monologue and there was a sort of hush in the room. I was leaving and this kid said, 'People are talking about you.' I just loved it from then on — that I could get a response from people. It's interesting because I'm basically an extremely shy person, but you find that stage and I guess it gives you a place to be safe to express yourself."
His journey to self-realization is not so different than that of Michael's in the film. "Life is about becoming what you need to become," Alston said. In Alston's case, an artist. He found a mentor in UNO theater professor Doug Paterson, with whom he began staging performances of The Meeting. He found another mentor in John Beasley, but not before testing the waters at other theaters.
"Here's what I found about theater here," Alston said. "There's a lot of it, but rarely do they do anything that speaks to my sensibilities. The other thing is, there's this prevailing belief theater should be bigger than life. The Beasley Theater is the only place I've found where I can do the kind of in-the-moment, natural, real emotional response to theater. If you get up there and fake anything, that's not going to wash with John (Beasley). You're listening for real, you're responding emotionally for real. So that's been a breath of fresh air."
It didn't hurt that someone Alston admires so much encouraged him. "John was the first person of his caliber to tell me I could make it as an actor," Alston said.
Beasley said Alston, who appeared in the JBT production of Jitney, came to him fairly seasoned but unused to laying it all on the line.
"His style is pretty laid back. He's a protege of Doug (Paterson). Doug's style and my style differ, though I have respect for what he does," Beasley said. "Under Ted Lange I've seen Vince go inside a little bit more and dig a little deeper to mine some of that gold to bring the character out."
Beasley's proud to count Alston as a protege as well. "I'm happy to see he was able to start from nowhere and get this project launched. It's quite an accomplishment to get your first film made," Beasley said. "I don't know what will happen with this film, but I think he's on his way."
Alston had been after Beasley for Tate, a wise old janitor at the school Michael teaches at, but the actor held out. It was Lange who got Beasley to give the part another read. "Ted said, 'Look, Vince has put a lot of work into this character,' so I took another look at it," Beasley said. "I'm extremely happy to be a part of this project. I think it's a good thing for Omaha. I did the movie because Vince asked me and I respect him. I felt I could do no less. I knew it meant a lot to him."
"The fact that John is doing a role is just huge for us," Alston confirmed.
Other JBT stalwarts on the For Love of Amy team are: Ty Beasley, who in addition to playing X serves as first assistant director; Amy Laaker as line producer; and Mark O'Leary as location manager.
"It really would have been impossible to do this project without them," Alston said. "They've been with it from day one. You gotta have people committed to seeing the thing through to the end."
Alston's four-year odyssey to get the project made has been filled with the usual ups and downs. "In the process you're running around like mad trying to chase down money," he said. "You're always trying to get in front of the next guy. Every day you're networking with people…presenting business plans, making phone calls." Once, the film was two weeks from cameras rolling when the financing fell through. "It just throws you for a loop when it happens," he said. "As frustrating as it was for me, it was more frustrating to tell the cast and crew."
At his lowest points Alston said he rallies himself with something the great educator Mary McLeod Bethune once said: "'I refused to be discouraged, for neither God nor man could use a discouraged soul.' That is so heavy," Alston said.
Whether the film ever sees the light of day is anyone's guess. Alston hopes it makes the festival circuit and sells theatrically or to television. He'd like to make enough off it to tell more stories on screen. If it does well enough, he muses, maybe "I won't have to chase the money so hard the next time."
Related articles
Another Nebraskan making good in the film biz came to my attention recently, and the resulting short story that follows is what I hope will be the start of a string of stories covering his career. Darren Brandl is the young man's name, and he's the producer of a recently wrapped indie feature, The Man Who Shook the Hand of Vicente Fernandez, starring Ernest Borgnine. For a 26-year-old to pull this off is impressive. The writer-director friend of Brandl's behind the film, Elia Petridis, isn't  much older and is another name to watch.
Courtesy photo, Ernest Borgnine
in costume with Darren Brandl
on the set of The Man Who Shook
the Hand of Vicente Fernandez
Nebraskan Lives His Cinema Dream, Darren Brandl Produces 'The Man Who Shook the Hand of Vicente Fernandez' Starring Oscar-winner Ernest Borgnine
©by Leo Adam Biga
As published in The Reader (www.thereader.com)
A small town Nebraska son who cut his teeth on the movies is living his cinema dream producing an independent feature starring Oscar-winner Ernest Borgnine in the title role of The Man Who Shook the Hand of Vicente Fernandez.
The film, whose L.A, shoot wrapped the end of July, is produced by Madison, Neb. native Darren Brandl, 26. Elia Petridis, is the writer-director. Although their first feature, both are industry veterans.
Brandl grew up in the movie video store his parents operated. At 8 he began making short films with friends. He studied film at Cal-State Northridge.
"I kind of fell in love with the medium and the storytelling side of things," he says.
He worked the acquisitions side of the industry, first for the Hirsch Company and then for producer Lance Hool. In between he backpacked around the world, All the while he bided his time to produce. Then Petridis showed him the script for The Man. The pseudo-Western is set in a nursing home, where Borgnine's character, Rex Page, is a disenchanted resident alienated from the Latino staff until they discover he once shook the hand of Mexican actor-singer idol Vicente Fernandez.
Vicente Fernandez
"I read hundreds of scripts a year and less than one percent are interesting to me, and this is that one percent," says Brandl. "It was clear this is exactly the sort of movie I was looking for. It's a human story that has a lot of heart to it.
"It really has it's own voice, it's own tone, it's own pace and it's by a really good friend of mine who I trusted as a director and wanted to go on this journey with."
Writer-director Elia Petridis
Getting Borgnine was "the golden egg," says Brandl. "The instinct was always to find a star. and he responded strongly to the material. After seeing a first cut I would say there was nobody else who could have done a better job than Ernie. It really is his movie and he really holds it the way a movie star should…"
Brandl admires the 94-year-old actor.
"He's got quite a lust and zest for life. He doesn't need to be working but he does it because he loves it. On set he refused a stand-in. He set a tone for the work ethnic on the production. He's quite a guy."
Brandl's confident the project will be well-received.
"Especially as a first time producer you want to make something that really is going to speak for the rest of your career."
Related articles
As filmmakers go, Jon Jost is off the grid.  The uncompromising artist makes the films he wants to make, the way he wants to make them, and since his approach to story and technique is antithetical to mainstream feature filmmaking, he is pushed to the fringe, but that's where this contrarian prefers to be anyway.  In one sense, he's actually far ahead of the cinema establishment in terms of working in video and exploring its expressive possibilities.  He is a digital video guru who does a lot of presenting and teaching at universities.  I caught up with him a couple years ago during a residency he did at the University of Nebraska-Lincoln. My story about Jost originally appeared in The Reader (www.thereader.com), and meeting him and writing about him and viewing some of his work confirmed me just how diverse the filmmaking community is.
Cinema Iconoclast/Vagabond Jon Jost

©by Leo Adam Biga
Originally appeared in The Reader (www.thereader.com)
Digital cinema guru Jon Jost wears his iconoclasm as a badge of honor. The itinerant artist inhabits the fringes of the indie moviemaking landscape. In truth, he prefers it there. He's railed against the system from the time he tore up his draft card in the mid-1960s, an act of "resistance" that sent him into exile to do the expatriate thing in Europe and Mexico. Once back, he knew "full well" he'd be arrested. He was, too, earning a stretch in an Illinois federal reformatory.
He got busted again, in Chicago, in the weeks leading up to the '68 Democratic National Convention. He was filming at the time of his arrest and the fact he used a camera as a revolutionary tool sealed his fate as a rebel filmmaker.
Ever the outsider, the self-taught Jost disdains the established order in film. Anything smacking of studio or industry or commercial" is "artificial" to him.
"I'm an anarchist. I don't believe in leaders. I have no interest in commercial film," he said during a break from his artist-in-residency at the University of Nebraska-Lincoln. "My view is we're in a very deep trough of corruption and the corruption runs from the White House down to your local theater and into your film festivals."
His choice to work in DV or digital video is an expression of his dissent. He fell in love with it the first time he worked a Sony camera. From '97 on, celluloid's been dead for him, something once unthinkable for a serious filmmaker as himself. He described DV as "such an endlessly more, in the positive sense, plastic medium. It's more malleable. You can do more things with it and you can do it without having to break the bank. The movies I make now, if you made the equivalent in film, they'd cost hundreds of thousands of dollars. And for me they cost a hundred dollars.
The choice is not just about economics, but aesthetics.
"For years it was really like heresy to say, 'No, I'm not just doing it because it's cheaper, I'm doing it because it's better, period.' It doesn't look like film, but it has other things…other qualities…that are much better than film."
He knows his work is out of step with the suits and the masses. Even as Hollywood begins to test the digital waters, he said DV won't really change anything.
"It depends on who uses it. If Hollywood uses it than the special effects will get zappier. They can blow things up more spectacularly. They'll do 3D digital but what they say will be lowest common denominator romance-sex-kill. Conventional movies will remain a big business designed to take ten bucks out of your pockets," he said.
Since January he's conducted statewide DV workshops and a UNL seminar. He does workshops all over the world, preaching a credo of "don't accept their media —  make your own media." He and his Italian wife/editor Marcella arrived in October. From a mausoleumesque stone building fast off a busy Lincoln intersection, the couple toil away like digital devils; the interior strewn with computers, musical instruments, books, DVDs, paint supplies. Few people will ever see their beautifully realized movies made on the cheap. Festivals turn a cold shoulder to his recent nonlinear, nonnarrative work. Even his last narrative feature, the anti-war Homecoming (2004), got snubbed. He feels it's too political for these times.
The rejection dismays Jost, who's enjoyed acclaim for his art films. His All the Vermeers in New York (1989) was a festival darling and aired on PBS.
Festival directors told him Homecoming was "too slow," ironic, he said, as his previous films "were slow also and they loved" them. So slow is no longer fashionable?" he asked with rhetorical incredulity. On Homecoming he "deliberately" pulled back from his "inclinations and desires" to shoot in an "avant garde" style and still not a single American film festival would accept it.
"On one level that's depressing," he said, "and on another level it's completely liberating because I can say, 'Fuck it.' Why should I move even this far to make it more accommodating when there's nothing to accommodate? I know I'm going to get shut out. For the moment anyway there is no market whatsoever for what I do. So why should you torture yourself chasing this thing that absolutely doesn't exist? So now I just make what I want to make the way I want to make it."
He's made other narrative films: Last Chant for a Slow Dance, Sure Fire, etc.. He's shot in Panavision and 35 millimeter. Only his films don't obey the rules with their lurches toward abstraction.
In his view, commercial filmmaking is a pastiche of old art. "It's like, Didn't you ever look at any art since 1650? Oh, so you can do Renaissance single and even double point perspective. So fucking what? They did it 500 years ago, alright," he said.
"I'm a consumer, if not always liking it, of the arts. When I look at a movie I'm like, These people are so behind what visual language is available. With a computer you can make a completely credible visual representation you can go through of five-dimensional space, and they're so pleased with managing to make a Renaissance picture," he said, laughing with derision.
He enjoys dissing Hollywood and scoffs at the idea an Alexander Payne is an indie filmmaker. "No independent person would want to work with them (Hollywood)," Jost said. Even if Payne enjoys final cut, Jost asserts he's a sell-out. "He's already controlled because he makes films that are completely commercially palatable."
"I find the limits of normal filmmaking false. Why can't we have films that would be the filmic equivalent of Cubist painting?" Jost asked. "I have done some of that myself." Using modern art devices, he superimposes scrims, images, text over the frame. He points the camera straight down at roads or out windows of moving vehicles, making subjects of the passing tableaux. In Vermeers a marble floor is the object of attention in a long tracking shot.
He eschews such tenets as establishing shots or cutting from one actor's profile to the other in dialog scenes. He trusts "you'll figure it out if you're paying attention." He prefers improvising to scripting. Natural light. With his new work, including the in-progress Swimming in Nebraska, he uses a digital software program to adorn and enliven a static frame. Slowly, rhythmically, geometric patterns filled with color and shape bleed in from the screen's edges. These riffs, alone or in collage, correlate to the background's fixed image, informing and enriching it.
Swimming profiles individuals engaged in various creative pursuits in the state. Jost said, "I'm trying in a very oblique, poetic way to show the creative process" and "to attack the general mentality people have of Nebraska or the Midwest" as a sterile place. "It's full of interesting, lively things as much as anywhere else."
He also completed a video installation while in Lincoln.
With his Nebraska stay near an end, Jost looks ahead to a university teaching gig in Seoul, South Korea. "It will be my first job. It's not in the bag. If it doesn't work out I'll figure out something else to do," he said. "I've never had a real job in my life. I'm 63, I don't have a pension, I don't have insurance, I've got nothing. I'm not going to worry about it now. One way or another, I'll manage to survive."
As he told the New York Times, "I've spent my life being left out. I'd like to stop, but it's what I do." Whatever happens, he'll be "working, working, working."
From May 20 through May 24 the Mary Riepma Ross Media Arts Center in Lincoln will host Jon Jost Presents, a sampler program of his work and work by regional DV artists. All screenings are free and open to the public. For details, call the MRRMAC at 402-472-9100 or visit www.TheRoss.org.
Related articles