Posts Tagged 'Citizen Ruth'
When Laura Met Alex: Laura Dern & Alexander Payne Get Deep About Collaborating on 'Citizen Ruth' and Their Shared Cinema Sensibilities

©by Leo Adam Biga
Originally published in The Reader (www.thereader.com)
When Alexander Payne and Laura Dern chat on the Holland Performing Arts Center main stage July 13 for Films Streams' first annual fundraiser they'll naturally get around to Citizen Ruth. The 1996 abortion comedy he co-wrote with Jim Taylor marked Payne's directorial debut and Dern's portrayal of title character Ruth Stoops earned her critical acclaim.
What the pair may or may not discuss is how pivotal their collaboration proved.
Sixteen years ago Payne was still an aspiring feature filmmaker. His UCLA graduate thesis project from a few years before, The Passion of Martin, turned heads. The newcomer showed enough promise to land a studio development deal, analogous to a college baseball star getting drafted by a major league franchise, inking a fat contract and getting assigned to the high minors.
But he hadn't broken through yet. He and Taylor did finish their abortion comedy script, then-known as The Devil Inside, that fall. They were trying to get it set up for Payne to direct. The script made the rounds, generating heat, but nobody wanted to finance it. Too risky. Too political. Too controversial. It didn't help that Payne was untested in features.
Cut to Dern, by then established as an edgy screen actress for bare-her-soul performances in Joyce Chopra's Smooth Talk, Peter Bogdanovich's Mask, David Lynch's Blue Velvet and Wild at Heart and Steven Spielberg's Jurassic Park. She was already Oscar-nominated as the free spirit title character in Martha Coolidge's Rambling Rose, for which her mother, Diane Ladd, was also nominated. Her acting genes extend to her father and fellow Oscar nominee, Bruce Dern.
Reminiscent of a young Barbara Stanwyck in her ability to play innocence and guile, sweetness and toughness, Dern was a catch for any director. Payne was a big fan of her work but never thought of her for messed-up Ruth Stoops. He probably didn't think he could get her. That changed when, unbeknownst to him, Dern's then-beau, actor Jeff Goldblum, got ahold of the Devil script and gave it to Laura.
"And I just was obsessed the moment I read it," she said by phone from the L.A. set of a short film she's appearing in. "I just forced their hands."
What did she respond to so strongly?
"Well, in terms of the material," she said, "it's a very unique and hilarious and extremely honest voice about this country and about what happens when you get two opposing sides in America, on any subject frankly. And the idea of putting this not just flawed but impossible protagonist at the middle of it is just completely genius. I felt I had something to bring to it that was unique.
"My love for finding empathy and voice in untenable human territory made me determined to force myself on them. I could love nothing more as an actor than one specific challenge — which is finding an empathetic place for a character we would ordinarily have disdain for, and Alexander happens to love that, too. Alexander, Jim and I have the same sensibility and that's a very rare thing to find."
YOU CAN READ THE REST OF THE STORY IN MY NEW BOOK-
Alexander Payne: His Journey in Film, A Reporter's Perspective 1998-2012
A compilation of my articles about Payne and his work.  Now available for pre-ordering.
Laura Dern and Mary Kay Place
Payne conferring with Dern on the set of Citizen Ruth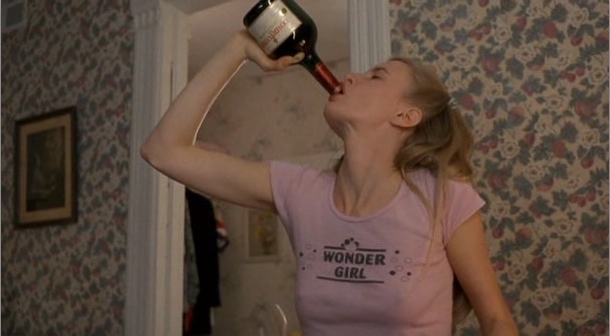 Ruth Stoops self-medicating.
Related articles
Categories:

Alexander Payne, Books, Cinema, Citizen Ruth, Film, Film Streams, Laura Dern, Nebraskans in Film, Writing
Alexander Payne, Citizen Ruth, Laura Dern, Ruth Stoops
This article on emerging filmmaker Nik Fackler makes no bones about his establishing himself a major cinema figure on the strength of his first feature, Lovely, Still. The pic is finally getting a general release this fall, but it's picked up a slew of admirers and awards, most recently from screenings at the California Independent Film Festival.  Watch for this film when it comes to a theater near you or plays on cable or wherever else you can find it, because it's the work of an artist who will make his presence felt.  As he prepares to make his next projects, I feel the same way about Fackler that I did about Alexander Payne when I saw his debut feature Citizen Ruth – that this is an important artist we will all be hearing much more from in the future.  I look forward to charting his journey wherever it takes him.
NOTE: This article appeared in advance of a limited engagement run of Lovely, Still in Nik's hometown of Omaha last fall.  The film is having a full national release  the fall of 2010.  Look for it at a theater near you in September or October, perhaps later.
Check out my most recent post about the film, Fackler, and the relationship between he and star Martin Landau.
Nik Fackler, The Film Dude Establishes Himself a Major New Cinema Figure with 'Lovely, Still'
©by Leo Adam Biga
Originally appeared in The Reader (www.thereader.com)
After what must seem an eternity, Omaha's resident Film Dude, writer-director Nik Fackler, finally has the satisfaction of his first feature being theatrically screened. An advance one-week Omaha engagement of his Lovely, Still opens the new Marcus Midtown Cinema, Nov. 6-12.
The film's box office legs won't be known until its 2010 national release. Screenings for New York, L.A. and foreign press will give Lovely the qualifying runs it needs for Academy Awards consideration next year. It'd be a stretch for such a small film to net any nominations but the lead performances by Martin Landau and Ellen Burstyn are so full and finely honed they're Oscar-worthy by any standard.
Both artists strip themselves emotionally bare in scenes utilizing all their Method gifts. Their work is: dynamic, never dull; natural, unforced. Their behaviors appropriate for the romantic, comedic, dramatic or just Being There moments.
Nods for writing, direction, cinematography, editing and music would be unlikely but not out-of-line for this gorgeous-looking, powerfully-rendered, well-modulated movie that hits few false notes. The film pops with energy and emotion despite a precious storyline of senior citizens rediscovering first love.
The local creative class is well represented by Tim Kasher's "additional writing," James Devney's strong portrayal of Buck, a lush score by composers Mike Mogis and Nate Walcott and dreamy tunes by Conor Oberst and other Saddle Creek artists.
It's at least as impressive a feature debut as Alexander Payne's Citizen Ruth.
An indication of how much Landau believes in Lovely and how proud he is of his gutsy star-turn in what Fackler calls "a showcase role that's very challenging" is the actor's appearances at select screenings. That includes this Friday in Omaha, when he and Fackler do Q & As following the 6:15 and 9:15 p.m. shows at Midtown.
Fackler's at ease with the film that's emerged. "I am very content, although it has changed a lot," he said, "but I welcome all changes. Film is an ever changing beast. You must embrace the artistic transformation. To not allow it, is to limit it." Much hype attended the making of the 25-year-old's debut feature, shot in his hometown in late 2007. It was the first movie-movie with a real budget and name stars made entirely in Nebraska since Payne's About Schmidt in 2001.
Circumstances caused the film that generated serious buzz a couple years ago and then again at the Toronto Film Festival's Discovery Program in 2008 to fall off the radar. Lovely producers turned down a distribution offer. They continue negotiations seeking the right release strategy-deal. Self-release is an option.
It's been a long wait for Fackler to see his vision on screen – six years since writing it, five years since almost first making it in 2005, two years since completing principal photography and one year since reshoots and reediting.
"This has been the longest I've like worked on a single project for forever," he said. "It's really been a marathon."
Anticipation is great, not just among the Nebraska film community that worked the pic. Whenever stars the caliber of Landau and Burstyn throw their weight behind a project as they've done with Lovely the industry takes note. That a 20-something self-taught filmmaker with only micro-budget shorts and music videos to his name landed Oscar-winning icons certainly got people's attention. As did hanging his script's sentimental story about two old people falling in love at Christmas on a subversive hook that turns this idyll into something dark, real, sad and bittersweet. Throw in some magic realism and you have a Tim Burtonesque holiday fable.
The two stars would never have gotten involved with a newcomer on an obscure indie project unless they believed in the script and its author-director. At the time Fackler lacked a single credit on his IMDB page. Who was this kid? In separate meetings with the artists he realized he was being sized up.
"It was really intimidating," Fackler said of meeting Landau in a Studio City, Calif. cafe. "I was just super freaked out. I don't know why. I'm usually never that way. But it was like I was about to meet with this legend actor to talk about the script and for him to kind of like feel me out — to see it he can trust me as a director, because I'm a young guy. We're from such different generations."
The two hit it off. Lovely producer Lars Knudson of New York said Fackler "aced" a similar test with Burstyn in Manhattan: "It's a lot of pressure for a (then) 23-year-old to meet with someone like Ellen, who's worked with the biggest and best directors in the world, but Nik blew her away. I think she called him a Renaissance Man." Knudson said "it's really impressive" Fackler won over two artists known for being ultra-selective. "They're very critical. They've done this for so many years that they will only do something if they really believe it's going to be good."
Lovely producer Dana Altman of Omaha said the respect Fackler gave the actors earned him theirs.
Anyone reading the screenplay could see its potential. Besides A-list stars other top-notch pros signed on: director of photography Sean Kirby (Police Beat), production designer Stephen Altman (Gosford Park Oscar nominee) and editor Douglas Crise (Babel Oscar nominee).
But the history of films long on promise and short on execution is long. As Dana Altman said, any film is the collective effort of a team and Lovely's team melded. On location Fackler expressed pleasure with how the crew  - a mix from L.A. and Omaha – meshed. "Everyone's on the same wavelength," he said. Still, it was his first feature. DP Sean Kirby said, "Anytime you do something for the first time, like direct a feature film, there's a learning curve, but I think he's learned very quickly." Fackler admitted to making "a bunch of mistakes" he "won't make again."
The subject matter made the film rife with traps. Take its tone. Handled badly, it could play as treacle or maudlin. Instead, it reads poignant and tragic, and that's to everyone's credit who worked on the film.
Then there's Fackler's penchant for going on fantastical jags in his work, routine in videos but risky in features. His loose approach, such as ditching the shot list to improvise, combined with the total creative freedom producers granted, meant he could play to his heart's content, within reason. That can lead to self-indulgent filmmaking. Indeed, he fought and won the right to shoot trippy dream sequences that ended up on the cutting room floor. But some experimental lighting techniques to express tangled memories do make an effective motif in the final cut.
Following the mostly positive Toronto showing, the team reassembled for Omaha reshoots and New York pick ups. His leads supported the fixes and coverage.
"Martin and Ellen were behind it, they weren't annoyed by it, they thought all the reshoots were going to make the film better," said Fackler. "It wasn't something that felt forced or anything like that. Everyone was on the same page."
The young artist and his venerable stars established an early rapport built on trust. "We became friends," he said. He readily accepted ideas from them that helped ripen the script and gave its young creator deeper insights into their characters.
"What's great about Nik, especially at his age, is he's willing to collaborate with people. It's still his vision, but if it makes it better he'll change it, he's not afraid," said Knudson, who said the script owes much to the input of Landau and Burstyn. "He's very sort of ego-less."
It's all in line with Fackler's predilection for creating a relaxed set where spot-on discipline coexists amid a way-cool, laidback sensibility that invites suggestions. On location for Lovely he exhibited the same playful, informal vibe he does on his videos: whether going "yeah, yeah" to indicate he likes something or pulling on a can of Moen between takes or doing a private, Joe Cocker dance watching scenes or saying to his DP setting up a shot, "Feelin' good then? Then let's kick ass!"
Fackler's totally of his Generation Y culture, just don't mistake his nonchalance for slacker mentality. He's all about the work. He carved a career out-of-thin-air directing videos for Saddle Creek recording artists. His shorts netted the attention and backing of Altman. He cobbled together casts, crews and sets, often doing every job himself, before Lovely. He hung in there six years waiting for this moment, working at his family's business, Shirley's Diner, to pay the bills.
"If there's ever a roadblock you can always get around it. It's just a matter of taking the time…and not giving up. I wanted the roadblocks. I was like, Bring 'em on, because I had a lot of ambition and I still do. I  guess it's just something that I always thought anything is possible. It's like the naive child in me never left me. I love it. I try to get everyone else around me to feel the same way."
It was in an L.A. editing room where the jumble of material he shot for Lovely finally came into focus.
"The film from script to screen went through a lot," he said. "I tried every possible edit. That's why we ended up editing two months more than we thought we were. But luckily, you know, everyone — producers and investors – were supportive of that process, They didn't put that much pressure on me because they saw that the film was pretty good, they liked it, and so they allowed us to do it. I ended up throwing the dreams out all together because they weren't working, and using the experimental lighting scenes because they ended up looking so good.
"I have no regret cutting things I shot. I love the film I have. I love cutting stuff. My philosophy while editing was to not be attached to anything. Once I lived by that rule, everything came free. What matters is making the best film possible, always."
That mature-beyond-his-years attitude drew Altman to be his mentor. Altman, whose North Sea Films produced Lovely with Knudson and Jay Van Hoy's Parts and Labor, credits Fackler for hanging in there and doing what's best for the project, saying: "it's taken a great deal of patience. Poor Nik, he really does want to see this get released." Whatever happens, Fackler's satisfied with what he's wrought.
"I like to take children's themes that anyone from any age can understand and then put them in these like really harsh realities of what life can be like. Lovely, Still is very much written to evoke some kind of feeling. It takes place during Christmas time and it deals with family and love. It's multi-layered. For some people that may be a happy feeling and for others it may be depressing. Art is trying to create a new feeling you've never felt before. You watch a film and you leave the film feeling a new way. You may not have a name for the feeling, but it's new.
"That's all I can hope for."
He recently collaborated with cult comic strip-graphic novel artist Tony Millionaire on a script adaptation of Millionaire's Uncle Gabby. "I can't wait to bring existentialism and poetry to the children's film genre," said Fackler. "I'm also excited to work with puppetry. It will be like playing with toys! ALL DAY LONG!"
Altman, Knudson and Co. have informal first-look rights on Fackler projects.The same producers who've had his back on Lovely look forward to a long association. "Like Dana (Altman), we want to continue working with Nik and we want to create a family sort of, so he feels protected, so he can make the movies he wants to make for the rest of his career," said Knudson. Radical, man.
Related Articles
Categories:

Cinema, Dana Altman (North Sea Films), Film, Hollywood, Lovely Still, Movies, Nik Fackler, Omaha, Omaha (the Movie), Screenwriting
Academy Award, Alexander Payne, Cinema, Citizen Ruth, Dana Altman, Ellen Burstyn, Film, Hollywood, Lovely Still, Martin Landau, Nik Fackler, Omaha, Omaha Nebraska, Screenwriting
It's always a pleasure to interview a star you have admired.  That certainly was the case when I did a phone interview with actress Swoosie Kurtz.  The occasion was a Tony nomination for her role in Frozen, a drama co-produced by friends and family in her native Omaha, which if you've been reading my article posts you know by now is my hometown and place of residence.  She was every bit the fun and funny bright spirit I had come to expect.  The Omaha connection extended to her having worked with Alexander Payne on his debut feature, Citizen Ruth, which was shot here. My own career has intersected with Payne, whom I have been covering since he completed that project in the mid-1990s.  As I write this, I am about to call Payne to arrange a face-to-face interview with him about his recent shoot of The Descendants in Hawaii, where he just wrapped on Friday.  One final Omaha connection involving Swoosie is my having written about the Omaha company that co-produced Frozen and my scripting a documentary that that same company shot and edited.  Small world.
My Swoosie piece appeared in The Reader (www.thereader.com).
Kooky Swoosie: Actress Swoosie Kurtz Conquers Broadway, Film, Television
©by Leo Adam Biga
Originally published in The Reader (www.thereader.com)
Frozen
Omaha native Swoosie Kurtz, that sometimes kooky stage, film and television actress with the dizzy name to match, is dead serious about her work. The depth of this consummate artist's craft is on full display in the current Broadway drama Frozen, in which she plays a mother coming to grips with the void of her missing daughter, whose terrible fate she doesn't know for 20 years.
The story revolves around the daughter's disappearance and how this event connects the girl, the mother, the serial killer that took her and the therapist trying to discover what set this tragedy in motion. The theme of child abuse looms large in the killer's own past and drives him to revisit his horror on others. Brian O'Byrne won a Best Actor Tony for his performance as the killer. Critics are calling Kurtz's Tony-nominated portrayal of the shattered mother a tour de force.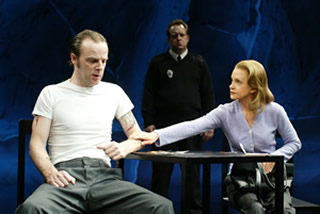 Brian O'Bryne and Swoosie Kurtz in Frozen
"My character goes through this 20-year journey of having her child taken and not knowing she's dead. She goes through all the stages — mourning, anger, depression — and, finally, into acceptance, but in a very beautiful way. The second act of the play, particularly, is uplifting and life-affirming and redemptive," said Kurtz.
Her process is a melding of the interior Method approach that uses emotional exploration and the more classical exterior approach that focuses on body, voice, movement, makeup, et cetera. "What works best for me is a kind of working from the outside in. When I can picture a character — how they sit, how they walk, the kind of clothes they wear — it tells me a lot about the inside of the character. The process is partly intuitive and partly technique. I think a lot of actors starting out today rely too much on the intuitive and the instinctual. You have to learn your craft," she said in a 1999 Tony Awards Online interview.
Roots
Born in Omaha as the only child to a war hero father and society matron mother, she did part of her growing up here — attending Field Club School — before her family moved west. Her career military father, the late Col. Frank Kurtz, was the most decorated U.S. airman of World War II. She was named after the B-24 bomber he flew, dubbed the Swoose after a Kay Kyser song about a half swan, half goose. Before the war, Col. Kurtz was already famous as a world class platform diver. He won a bronze medal in the 1932 Olympics and competed in the '36 Berlin Games.
Her mother, the former Margo Rogers, authored a book, My Rival the Sky, about being the wife of an absent war hero. Margo hailed from an old money Nebraska family headed by her father, Arthur Rogers, a cattle tycoon who headed the Omaha Livestock Commission in the stockyards' heyday. Kurtz recalls him taking her to the yards, plopping her atop a horse and playfully telling her to "wrangle those cattle. I weighed about 45 pounds, but because he told me to do it, I thought I could. I never questioned it." Her enterprising grandma, Gigi Rogers (formerly Conant), built three downtown hotels — the Conant, the Sanford and the Henshaw.
Kurtz had one familial tie to show biz. A maternal great uncle, Homer Conant, was a set and costume designer for legendary impresarios Ziegfeld and Shubert in 1920s New York. "So, I'm revisiting the scene of the crime here on Broadway," she said.
Kurtz stayed with her grandparents in Omaha when her much-traveled parents were away on missions and war bond drives. Of her grandparents, she said, "They were a huge influence on me in my formative years. They were incredible. They had this big country house that my mom grew up in and I partly grew up in. When I was in town doing Citizen Ruth (Alexander Payne's 1996 film), I went to the house, just to see it, and it brought back amazing memories to revisit it."
Her father's many transfers meant frequent moves for her and her family. Being an only child forced her to cultivate her imagination. "I would play different games with myself and become different people and talk to myself in different voices. The characters would talk to each other. Only children have their own way of survival."
A Eureka Moment
The theater first enchanted her when, as a kid, she attended Broadway plays with her folks. Her earliest stage acting came at Hollywood High. "I was in this drama class at Hollywood High and I did this scene from Dark Victory or some other Bette Davis movie and it was like, Whoah. Something fell into place in that moment and clicked and it was like, I can communicate with people this way better than I can on my own. It was just a eureka moment." She began formal dramatic studies at the University of Southern California, where her parents graduated, before crossing the pond to complete her training at the London Academy of Music and Dramatic Art. There, she fully immersed herself in acting.
If anything, her Tony-nominated turn in Frozen is a reminder of Kurtz's versatility and penchant for sinking her teeth into challenging roles. Much of her best-known work has seen her essay women-on-the-edge-of-a-nervous-breakdown in plays by some of the world's greatest living dramaturgists. Her whimsical, lost souls are tinged with a deep well of sadness and display a sharp wit.
Among her stage triumphs are her turns as Gwen in Lanford Wilson's The Fifth of July and as Amy John Guare's The House of Blue Leaves. Her many film portrayals include: a hockey groupie in Slap Shot; the wry hooker in George Roy Hill's The World According to Garp; the frothy wife in A Shock to the System; the ambitious mother in Stephen Frears's Dangerous Liaisons; "the world's laziest woman" in David Byrnes's True Stories; and a scheming abortion war fanatic in Payne's Citizen Ruth. For television, there was her Emmy Award-winning portrayal of high society living, cancer surviving Alex in the popular NBC-TV series Sisters and a socialite dying of AIDS in the HBO drama And the Band Played On.
Dangerous Ground
Even though its subject matter put her off, she felt compelled to do Frozen. The play's executive producer is an Omaha cousin, Thompson Rogers, whose Oberon Properties owns the screen rights. "This play just knocked the breath out of me," she said. "I hadn't read anything like this ever. I think the issues of child abuse hit me the hardest. What struck me on my first reading of the play is that the serial killer character of Ralph, who takes my daughter, has been horribly abused as a child. And I firmly believe what the play is hypothesizing is that when children are abused…certain parts of their brain get stunted and the part that has empathy and compassion and remorse simply doesn't develop in the way that it should."
Playwright Bryony Lavery's disarming examination of abuse, trauma, loss, regret, forgiveness and grace drew her in. "Just the sheer poetry of the way this subject is handled," she said. "It's a subject we see all the time on television and, so, we think we know all about it, and then this play comes along and presents this in a way that defies any expectation you have."
She knew Frozen was a must-do project when reading it unnerved her. "When something scares me as much as this play did, I have to do it," she said. "It's so dangerous, this piece. It's so risky. I thought, How are we going to rehearse this play? How the hell do you work on something like this and not just be a wreck? And, actually, we laughed a lot in rehearsal, which sounds really irreverent, but that was the whole key — to be irreverent about the material. Because the audience's experience of it is very different from ours. We have to do it and go through it and it's up to them to have the emotional response."
Kurtz believes in challenging the gods rather than playing it safe. She recalls the time she essayed identical twins in Paula Vogel's play The Mineola Twins, which not only required her to be two separate people, but to be on stage for all but a few seconds. Again, she asked herself, How am I going to do this? As usual, the motivation of the challenge allowed her to find a way to make it work. That discovery and accomplishment, she said, is what makes the journey into the abyss worthwhile. "And then it's such a great feeling when you prove to yourself that you can," she said. "You're like, You know what? I did it. I took the leap."
Making real the ultra-sensitive, bereaved, even mad characters she inhabits means muting the obvious comic notes to express the inner beauty. It's about being nonjudgmental "and also having great compassion for the character," she said. "I always find I turn a corner in rehearsal when somehow the character moves me."
She said she learned not to play the fool when the legendary Jerry Zaks, with whom she worked on House of Blue Leaves, gave her "the best piece of direction I ever got. In my mind, I thought, I have to let the audience know right away that this woman, Amy, is a little out of touch with reality. I had this line, 'Is it light yet?' And I was doing it kind of spooky, like a strange woman would. And Jerry said, 'Swoose, you are the happiest, most normal housewife in Queens.' It was a brilliant thing that resonated through that whole piece and everything I do because people who are on the edge or neurotic or insane think they're totally normal. And it's that everydayness or normalcy what is sometimes so shocking."
Citizen Ruth
If ever a performance has embodied the power of subtlety over histrionics it's her rendering of Diane Siegler in Citizen Ruth. In this one character, Kurtz plays an arc of extreme types, but believably so within the framework of Diane's fanaticsm. When we and the title character, Ruth Stoops (Laura Dern) first meet Diane, she appears to be a prim holier-than-thou pro-life advocate. Then, as we and Ruth learn, it turns out Diane's only posing as a pro-lifer, but in reality is an openly gay pro-choice agitator who's infiltrated the enemy camp in order to spy and reek carnage on their campaign. Diane's hilarious "coming out," complete with removing her dowdy wig and eye glasses to show her true identity and sympathies, is all the funnier and more surprising because Kurtz underplays it so matter-of-factly. "What was so great about that was I got to do play two people," said Kurtz.
Kelly Preston, Laura Dern, and Swoosie Kurtz from Citizen Ruth
She was impressed with fellow Omahan Alexander Payne, who co-wrote Citizen Ruth and made it his feature film directing debut. "He was so grounded and so real in his approach to everything," she said. "Well, you know, he's from Omaha. But he is so smart, on so many levels, that I think he sometimes had a plan in mind that we didn't know about, and we didn't have to know about it. He had his map in his head very clearly, but he was also very open to experimentation and open to whatever was happening in the moment.
"If we happened to ad-lib something, he was delighted with it and very often would use something. He just came up with these great sort of subversive, out-of-the-box ideas. He'd just throw some curve at us right before the take and it'd be something I would never have thought of in a million years."
As an example, she recalls a scene in the kitchen at the country house where she and her lover (Kelly Preston), are putting up Ruth Stoops. The phone rings and Kurtz's Diane Siegler "answers the phone as the lesbian liberal activist and then" — when it turns out the caller's a pro-lifer — "I put on my (eye) glasses in order to talk to her. And that was Alexander's idea. And I thought, Oh, my God. What an incredibly bizarre and amazing idea" to have her put her defense/disguise back on.
Payne is equally impressed with her. "I remember her as being so delightful and cooperative and professional. She knows her dialog. She comes prepared. She has good ideas. Highly directable. I mean, she's a total pro. And she's funny," he said.

The film, still unappreciated among general movie audiences, is a favorite of hers. "I've never seen a movie like it. It's just unto itself. It's an amazing film," she said.
Feeling the Most Alive on Stage
Kurtz has been nominated for eight Emmys (winning one for Carol and Company) and has stolen scenes in dozens of big and small screen pics, but her stage work is what makes her a living legend. She has two Best Actress Tonys to her credit (for Fifth of July and House of Blue Leaves) in addition to Drama Desk Awards, an Outer Critics Award and an Obie. She moves effortlessly from one medium to another, but the boards is her true calling. It's where she feels most engaged as an artist.
"An actor on stage has more responsibility than in any other medium," she said. "You are so much more responsible for what happens out there on the stage. Film is definitely the director's medium. They shape the film. They take what of your performance they want. They choose what the audience is looking at at any particular point. Your face may not even be on camera at that moment. On stage, you control everything. You control your body, your voice…whether the audience is seeing your profile or the front or back of you. You control how loud you are. You control the timing of everything.
"I'm not sayng film and television are easier by any means, because they're all enormously challenging, But, ultimately, you are much more accountable in the theater for what happens that night on stage."
Acting, for Kurtz, feeds her like nothing else. "It's when I feel most alive," she said. "I definitely think when I'm acting I'm my true self. You know how in therapy they talk about your true self? I think that joy just comes out. I mean, I was on stage the other night thinking, I'm so happy right now. I'm so alive." Where real life once seemed boring compared to acting's hyper intensity, she sees it differently now.
"I'm getting a lot more enjoyment now out of real life. Thank God, because there's a lot of that around," she said, unleashing her happy, kooky, bright spirit's laugh.
Related Articles