Posts Tagged 'Cinema'
This is my sixth published story on Alexander Payne's new film Nebraska and it takes a somewhat unique slant on the movie's senior cast and aging themes.  The angle I take was predicated by the publication I wrote the piece for, the New Horizons, a monthly newspaper published by the Eastern Nebraska Office on Aging.  If you've seen the film or even clips of it, then you already know it prominently features several older actors and deals with some of the challenges that accompany aging.  In the piece Bruce Dern and some of his senior co-stars comment on how they are still working at the top of their craft even in their 70s and 80s.  Indeed, Dern believes he delivered his finest performance in "Nebraska."  Will Forte talks about what it was like collaborating with such a veteran cast.  They all talk about what it was like working with Payne.  You can find my other Nebraska stories on this blog.
In case you're new to this blog or to my work, then you should know that I am the author of the book, Alexander Payne: His Journey in Film, a collection of my journalism about the filmmaker over a 15-year period.  A new edition of the book will be coming out in 2014 with all my Nebraska coverage.
Alexander Payne's New Film 'Nebraska' Features Senior Cast and Aging Themes in Story Sure to Resonate with Many Viewers
© by Leo Adam Biga
Now appearing in the New Horizons
Oscar-winning native son Alexander Payne famously feels affection for his home state, so much so he's made four of his six feature films here, even titling his new movie starring Bruce Dern and Will Forte, Nebraska.
Payne, the writer-director of Citizen Ruth, Election, About Schmidt, Sideways and The Descendants, has with Nebraska forever burnished the name of this place in cinema history.
The film stands apart from most flicks today. For starters, it's black and white. Next, it captures elements of this Great Plains state never before seen on the big screen. Largely filmed in northeast Neb., the movie shows the rolling landscapes, prosaic farmsteads, played-out small towns and crusty denizens of this starkly beautiful rural region
The Nebraska Gothic picture plays like a funny, tragic and sad still life evocation of people and places rubbed raw by weather and misfortune.
But what really makes Nebraska a singular work is the preponderance of older folks in the picture and the various aging themes that permeate its storyline. Several senior-aged actors are featured in the nostalgia-laced story starting with Dern as protagonist Woody Grant, June Squibb as his piss-and-vinegar wife, Stacy Keach as his arch nemesis, Angela McEwan as his old flame, Mary Louise Wilson as his chatty sister-in-law Martha and Rance Howard as one of his brothers.
Payne's casting director, John Jackson, is impressed by what these actors of a certain age bring to the table.
Jackson says, "They are pros. They are inspirational to me. Their desire to create, passion to succeed, pursuit of challenges to themselves as performers – I want that as I age. I can only hope to be as fully functional as Mr. Dern, Mary Louise Wilson, June Squibb and Stacy Keach."
The movie's fanciful tale revolves around Dern's character of Woody, an unrepentant lech and cantankerous cuss who's lost some bearings in old age. He's seemingly unaffected by anything but hides a deep well of hurt, longing and regret. Like many males of his Depression-era generation he's doesn't reveal much in the way of feelings.
Much to the exasperation of his wife and two adult sons, he's stuck in his ways and bad habits and refuses to change. He's also facing some challenges that come with advancing years. For example, he's no longer able to drive and he walks with a halting gait. He appears depressed, confused and cut off from others.
When we first meet Woody he's running away from home, intent on walking the 900 miles from his home in Billings, Mt. to Lincoln, Neb. to claim a sweepstakes prize he believes he's won. Even when returned home no one can convince Woody he's got it wrong. More than once, he lights out to tramp alongside busy roads, in all kinds of weather, his son David coming to his rescue.
Realizing his old man is still bound and determined to go and afraid his father will be a hazard if he sets out again on his own David reluctantly agrees to take him to Lincoln, convinced Woody will come to his senses before they get too far. But things happen. The father-son road trip turns into a retracing of Woody's old haunts in his native Neb, Along the way the son learns some hard truths about his father's past that help explain the way he is and what's behind this crazy Don Quixote quest to redeem a prize.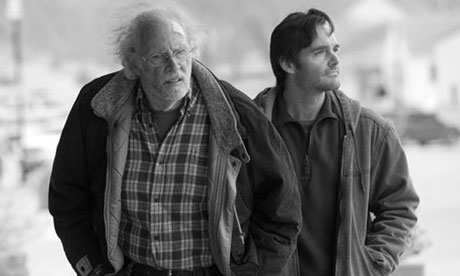 Eastern Nebraska Office on Aging experts say they don't know of a senior who's gone so far as to show up at a sweepstakes office expecting to collect their winnings. ENOA Care Management Program coordinator Diane Stanton says some seniors do mistake marketing pieces for actual checks and bring them to their bank thinking they can cash them. "That will happen unfortunately," she says.
Legitimate sweepstakes are one thing, but there are scams that prey on the trusting nature and sometimes naivete of seniors.
"We encourage our seniors to never give out personal information on the phone," says Stanton, adding that one should never have to divulge private details or send money as a condition for receiving a prize. "The Better Business Bureau has a Senior Line, 877-637-3334, that we strongly encourage our seniors to keep by their phone and to call anytime they suspect they're being scammed."
Stanton says the free service hotline frequently updates the newest scams to avoid.
Whether Woody's gullible or addled or simply wants to believe he's won, it becomes apparent what he's really seeking is redemption. He wants to leave his boys something to salvage his misbegotten life. In an act of unconditional love and forgiveness David poignantly grants him a valedictory moment at the end. Woody's problems are still with him but he and his son have become closer and the lines of communication opened. We're left with the feeling that should something happen to Woody or his wife, David will be there for them.
Experts say adult children need to discuss with aging parents those limitations affecting quality of life and what role they'll play in terms of support and caregiving.
ENOA Information and Assistance Program coordinator Gloria Erickson says her office fields a variety of calls each week from adult children inquiring about everything from financial assistance to home care to senior housing to transportation for their aging parents.
If an adult child feels his or her parent is a potential risk driving, a good course of action is to seek professional consultation.
"The first thing you need to do is talk to their doctor and get the doctor's perspective and opinion on where they are physically and cognitively in regards to driving," says Stanton. "That's the first step. And then talking about the need for one of the driver assessments."
Stanton says Immanuel Hospital and AARP offer assessments or evaluations to help determine if seniors are still able to drive safely. AARP also offers a self-test seniors can take online.
Assessments or not, an adult child may still need to have a conversation with an aging parent about surrendering their keys.
"Those heart to heart discussions are tough," says Erickson because it means the parent may be giving up some of their independence. "Family dynamics have a lot to do too with how things go."
ENOA Community Services division program coordinator Karen Kelly says whatever aspect of daily living a senior may need assistance with, it's always best to give them options.
She says among the changes adult children should look out for in their aging parents are increased memory loss, growing social isolation, worsening sleep issues and increasing difficulty taking stairs and keeping up their home.
As adult children notice changes in their parents, she says they need to address what can they "do to help and step in to fill in those gaps" and to determine when to "start looking outside the family for help."
Erickson says it's vital family members know "you don't have to do it alone." ENOA offers direct services and refers callers to other resource providers as needed.
Alexander Payne says he was better prepared to tell the story of Nebraska in 2012 than in 2003 when he acquired the script by Bob Nelson because his own life caught up with the film's themes. His father George was placed in a nursing home and his mother Peggy endured a health scare. Payne's attended to it all.
"I was able to make it quite personal in certain details related to David taking care of his older folk," he says. "I'm at that age and everyone I know of my generation at that age have parents that are getting on and need a little special attention. We love them to death and they drive us crazy, and how we take care of them and accommodate them and all those things, and how far do we extend ourselves to be dutiful and at what point do we cut it off, all those questions.
"It wound up being because of the time in my life when I was making it quite personal and I think that helps the film. It always helps a film if you can put some of yourself in there."
Not every senior needs special assistance. Indeed, most get along just fine on their own and still work, recreate, make love and learn. Take the older actors who populate Nebraska. Angela McEwan, who plays Peg Nagy, the editor of the newspaper in Woody's fictional hometown of Hawthorne, Neb., says she and her fellow actors of a certain age are busy professionals who haven't lost a beat. In fact, she says, "We're at the top of our game."
Casting director John Jackson saw both Mary Louise Wilson and Stacy Keach on stage in New York during the casting process of Nebraska and was inspired by their vitality.
"Both were terrific. Mary Louise was doing what was essentially a two-person show. That is a tremendous amount of energy to put out each week, each night. Mr. Keach was on Broadway. Big theater. Long run. Lead role. Wow. Good on them. They've set the bar high, both for themselves and others. That's what I want for myself as I age. More. Better."
In the film these actors vividly play characters their own age who still stir with passion and energy. McEwan's character was once in love with Woody. Near the end she gives a wistful look that suggests she still yearns for what might have been. Wilson plays a chattering busybody. Keach portrays an intimidating man set on getting what he feels he's owed.
The film overturns aging myths by demonstrating that even well into our Golden Years we can remain not only physically active but cognitively sharp and emotionally full. A positive spin on aging is encouraged by ENOA experts who say it's healthier to think in terms of assets or what can be done versus deficits or what can't be done.
Forte, best known for his long stint on Saturday Night Live, was moved by how engaged his veteran co-stars were.
"It was just a delight and an honor to get to work with these people," he says. "They're just such amazing actors. I learned a lot from them because I think at times I could be over-thinking stuff and it just reminded me, Oh, don't try to act too much, just be real. Like Bruce (Dern) would always say, 'Just be truthful,' and that always sounded like acting mumbo jumbo to me coming in but for some reason the way he would explain it and describe it it made sense.
"There's such an honesty that comes from these performances that it really taught me a lot to watch them."
Forte got close to Dern, who in real life is old enough to be his grandfather, during the two months they worked on the shoot.
"It was very similar to our characters in the movie – we really got to spend a lot of time together and by the end of it we were incredibly close. It just feels like we're family now. I learned so much from him. He was good to me. He was such a good teacher and friend. Nurturing, encouraging, patient. I can't say enough about him, and that's just personally.
"Professionally, to get to watch what that man does in this movie…I don't know what I will do in the future but it will be one of the highlights of my life to get to see such a special performance from that close up. It's something I will always remember."
Forte says he was already a fan of Dern's work before the project.
"I have watched so many Bruce Dern movies and he is the kind of person who I will rewind scenes to watch because he's so interesting. The performance he gives in this movie is mesmerizing. We've done a lot of screenings of this movie and I've seen it quite a few times now and I'm just always seeing new things I never saw before. He continues to amaze me with different subtleties. It is such a privilege to get to be in this movie with him."
This wasn't the first time Payne's worked with older actors. Jack Nicholson was in his late 60s when he played the title character in the filmmaker's About Schmidt.  June Squibb, the actress who appears as Dern's wife in Nebraska, was in her 70s when she played Nicholson's wife in Schmidt. Robert Forster was 70 when he essayed his small but telling part in The Descendants. Just like Forte finds it educational working with veterans, Payne does too.
"I've adored working with the 'old pros' — Nicholson, Dern, Keach and Forster. They are the best actors to work with," says Payne. 'They know what they're doing and they know how to study the director to see what movie he or she's trying to make. Plus, I have much to learn from them about what it is to have a life in movies. After all, I don't get to work with and learn from older directors, but I do get to have the actors. "
It works the other way, too, as Dern enjoyed working with two talents much younger than him in Forte and Payne.
"I grew to respect Will's ability as an actor and I wasn't sure who he was as an actor when we began," says Dern. "He brought his 'A' game every day for 40 days (the number of shooting days). One thing I made him know early on is that you have to play every play just as hard as hard as you play the play before and the play after. I told him, 'It's a job and you're supported here. Alexander's got a whole bunch of people on his set every day that have been working every day on every film he's ever made.' He's got a family there."
Dern's worked with legendary directors, including Alfred Hitchcock and Francis Coppola, and he says, "They're all wonderful, they all have genius qualities about them," adding, "Obviously, Alexander is maybe at the head of the list now that I've worked with him. He gets it done and gets it done with a style and a grace. I very much liked the experience with Alexander. I mean, the guy has two fabulous qualities that make a great director – he's a great coach and he knows when to up the vibe and down the vibe."
Stacy Keach, who's also worked with many directing legends, says of Payne, "He's like a great painter and a great conductor. He's a great filmmaker. It's a great honor for me to be a part of this movie."
Dern was impressed, too, by the work turned in by his fellow octogenarians and near octogenarians.
"Just everybody rose to the occasion. June Squibb is in her 80s. Mary Louise Wilson who plays my sister-in-law is in her 80s. Rance Howard is in his 80s. Angela McEwan, I don't know how old she is, but she's got to be up there. I'm 77."
Keach, age 72, calls it "wonderful" that he and his fellow senior actors create such a strong ensemble together.
"We still love what we're doing. We're trying to get good, still."
He says he and his colleagues not only remain capable but hungry, possessing "a love for our work and a need for our work and for our growth and development," adding, "Hopefully, we've learned something in our many years of experience."
He believes his old friend Bruce Dern delivers his finest, most in-depth performance, Dern, who won Best Actor award at the Cannes Film Festival and is a favorite for an Oscar nomination, feels his own work in the film is perhaps the best of his long, noteworthy career.
"The first day of the movie Alexander said to me, 'I'd like you to let Mr. Papamichael (cinematographer) and I do our jobs,' meaning don't show me anything, let me find it with the camera, and that's what he did and that's what you see.That doesn't mean I wasn't acting. It was as hard a role as I've had to take on but I feel I owed it to the material and to my career for just once in my life to try and have as many consecutive moment-to-moment pure moments of behavior. That's what I began when I worked with Mr. (Elia) Kazan and Mr. (Lee) Strasberg in the Actors Studio – how much moment-to-moment real behavior can you have? And I think in Nebraska I've done far and away the most I've had in an entire film."
Nearly stealing every scene she's in, June Squibb is the loud, cranky, foul-mouthed wife of Woody. As Kate Grant she makes a formidable partner to Dern's taciturn Woody.
Forte says the pair play very different personalities than their own.
"If you knew them as people you'd be blown away even more by their performances. June is such a sweet woman and then you see her as Bruce's wife in the movie and she's just ripping him apart. And Bruce, so vibrant and talkative in real life, but then once those cameras turned on he was so believably gruff and a man of few words. It is such a testament to their acting that they can fully inhabit these complex characters."
Payne and casting director John Jackson agree that the older players assembled for Nebraska deliver indelible performances. The pair spent much time and took great care finding just the right mix of faces to play the many older roles the story required. This aspect of filmmaking is so critical that Payne says, "Casting is the most important thing" and "The best thing I do as a director is cast. You can't mess-up casting. You've got to get the right people in every part. The leads and the secondary, tertiary parts have to be exactly right. It's creating a world."
He says his movie is as much "anthropological" as anything because he and Jackson found the faces and voices that most authentically represent the specific rural types being portrayed.
"Whatever achievements this film Nebraska may or may not have," Payne says, "for me its greatest achievement is its most significant marriage of professional and nonprofessional actors and nonreactors because to create that world it's dependent equally on production design and casting. That's what suggests that world is that flesh. We spent over a year doing it so that they all seem like they're in the same movie. Finding those vivid nonactors takes time.
Many characters in Nebraska, including the older figures, are based on real-life counterparts screenwriter Bob Nelson extrapolated from childhood visits to northeast Neb., where his parents were from and where extended family resided. He says the main character, Woody, is closely drawn from his own father.
Will Forte says his actual parents are nothing like his movie parents in Nebraska, but he says his maternal grandfather did share in common with Woody an inability to articulate things.
"He was a man of very few words, so I had the experience in dealing
with a person like that. I loved him very much and he loved me, so it was never an issue like that. But I had just a taste of that frustration of being with somebody who wouldn't always express themselves so clearly. That frustration mixed with that love. You can be frustrated by somebody and still love them and treat them with respect."
Bruce Dern says one of the reasons Nebraska resonates so strongly with him is that it speaks to something in his own life.
"One of the things in my life that's bothered me is that when I had an opportunity to say things to people in my own personal life before it was too late, before they were gone, I didn't do it, and that's on me. I thought that was stuff that was inherent in Woody. He was not a guy able to say the things he should have said and nobody in his family was able to say what they really felt to him. That struck a chord immediately.
"If there's a message in Nebraska it's if you have the opportunity to say the things you want to say, get them said, and if you don't have the opportunity make the opportunity, otherwise you'll carry it around with you the rest of your life."
For aging questions and services, call 402-444-6536 or 402-444-6444.
Related articles
Categories:

"Nebraska", Aging, Alexander Payne, Bruce Dern, Cinema, Film, John Jackson, Movies, Will Forte, Writing
Aging, Alexander Payne, Bruce Dern, Casting, Cinema, Film, John Jackson, Movies, Nebraska, Seniors, Will Forte