Archive for the 'Rosenblatt Stadium' Category
Rosenblatt is a magical name in Omaha because of the popular mayor who belonged to it, the late Johnny Rosenblatt, who in his day was quite a ballplayer, and because of the municipal stadium whose construction he speerheaded.  That stadium was named after him and became home to the College World Series.  The subject of this story is his son Steve Rosenblatt, who inherited his father's love for the game and followed the old man into politics.  Fabled Rosenblatt Stadium is no more, replaced by TD Ameritrade Park as host of the CWS.  The stadium, the series, and his honor the mayor are more than just tangential memories to Steve, they are lifeblood and legacy.
©photo from the Steve Rosenblatt Collection
Steve Rosenblatt, A Legacy of Community Service, Political Ambition and Baseball Adoration
©by Leo Adam Biga
Originally appeared in the Jewish Press
Legacy plays a big part in Steve Rosenblatt's life.
The Omaha native and his wife, the former Ann Hermen, live in Scottsdale, Ariz.
His late father, Johnny Rosenblatt, became an Omaha icon: first as a top amateur baseball player; than as a sponsor of youth athletic teams through the Roberts Dairy company he managed; and finally as a popular Omaha city councilman and mayor. The elder Rosenblatt, who served as mayor from 1954 to 1961, led efforts to build the south Omaha stadium that became the city's home to professional baseball and to the College World Series.
The city he loved paid tribute to one of its greatest boosters when Omaha Municipal Stadium was renamed Johnny Rosenblatt Stadium in 1964. The venue and the name have become synonymous with the NCAA college baseball championship played continuously at the stadium since 1950.
In a classic case of the apple not falling far from the tree, Steve Rosenblatt was a ballplayer in his own right and served on the Omaha Chamber of Commerce Sports Commission and the Omaha Royals Advisory Board. He followed his father's footsteps into politics as well, serving two terms on the city council and three terms on the Douglas County Board of Commissioners.
The stadium that's forever associated with his father played a key role in Steve's early life. He was a bat boy for the inaugural Omaha Cardinals game played there, a duty he performed the first years the CWS took up residence. He regrets that the facility so closely tied to his family will be razed after the 2010 CWS in line with the planned construction of a new downtown palace slated to host the Series beginning in 2011. But the pragmatic Rosenblatt knows the decision is driven by the bottom line, which trumps nostalgia every time.
Sports and politics are inheritances for Rosenblatt, who is an only child. Just as his father used sports and charisma to forge a political career, the son used his own passion for athletics and way with people to become a player on the local political scene and to find success as an entrepreneur.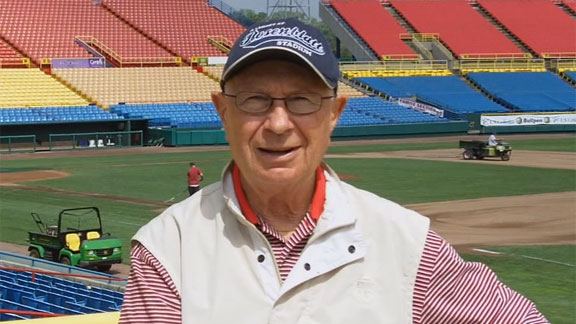 Steve Rosenblatt
Bearing a name that has such major import in Omaha could have been an issue for Rosenblatt, but he didn't let it be.
"You can take that and make it a burden," Rosenblatt said, "or you can take it and have it be an asset, and I wished to take that route."
Comparisons between he and his father were inevitable. "That's fine, because we weren't the same. First of all, he was a better ballplayer than me," he said with his dry wit. "I was a better golfer than he was. Basketball might have been a toss-up, except he played college basketball — I didn't."
Growing up, Rosenblatt couldn't help but notice what made his father a strong mayor and the sacrifices that job entailed.
"I was aware obviously of it and I learned as time went on how he operated and how he did things. Of course it was intriguing. He was a people-person who had an ability to communicate and to have relationships with his constituency and to make the tough decisions and still maintain a tremendous popularity. He had what I would call a broad-based support. He was well liked all over the community and one of the things that contributed to that — and it was what also helped me — was the background he had in athletics. That benefited him as I think it benefited me.
"He was well known as an athlete long before he was well known as a public official and his abilities as an athlete helped to project him into places."
Rosenblatt said his father epitomized the "It" factor politicos possess. "All the people you see serve in the public sector as elected officials have in my opinion an attribute that goes beyond the norm," he said, "in that they have the ability to speak and to be received in a fashion that projects themselves as leaders."
Being an accessible mayor means never really having any down time.
"What was difficult about it was the fact you learned early on there's a price to be paid as well," Rosenblatt said, "because obviously with my dad doing what he did he was not going to be with you doing the things you might like to be doing all the time. He had public obligations to take care of as an elected official."
The level of commitment required to be an effective, responsible public servant was not enough to dissuade Rosenblatt from seeking a seat on the city council and later on the county board. Even with the cachet of his name, his strong base in the business community and a groundswell of support to make a mayoral bid he never seriously considered running for that office. The same for a Congressional seat.
"I really was never interested in it. It was not aspiring to me. I'm as much a people- person as my dad was but at the same time I'm much more private. You cannot in my opinion be an elected official at that level and be as private as I would have liked to be. I want to do the job I was elected to do and when the day is over I want to go to the golf course, be with my family, watch a ballgame. You can't do that in certain areas because you've given up that right and that time by your election to a particular office."
He said it all comes with the territory.
"Make no mistake about it, when a person is elected to office, even at the city level, the county level, there's a sacrifice to be made," he said. "People may not realize it at the time they do get in but they will find out. I found out and I knew how much I wanted to give and how much I didn't.
"People thought I should have run for mayor. The thing that used to scare me about that thought was I might get elected. Then I'd have to go do it and, you see, I knew too much about what a mayor had to give up and to do to be successful. I could have done it. I think I could have done a good job at it but it was not appealing to me because my (golf) handicap would have gone up."
He never discussed with his father prospects for a public life nor went to him for political advice.
"Not really," he said. "I first got elected in '73 and he was stricken with Parkinson's disease in the latter part of the '50s, so he was really not able, but he didn't have to because I learned from him when he was healthy, vigorous and in office, so I'd already got the lessons."
Even though he never planned for it, Rosenblatt said he always assumed he would gravitate to public service.
"Well, I'd always thought that as a son of a former mayor and as somebody who had learned that life that perhaps some day I might get involved. I knew how to operate, so to speak. Actually, the way it happened is former Mayor Eugene Leahy said to me one day, 'Steve, you need to run for the city council — we need to get some new blood in there.' I guess he kind of triggered the desire."
At the time he declared his candidacy in 1972 Rosenblatt was a salesman with Sterling Distributing Company, an alcoholic beverage distributor. He'd done some college work at the University of Nebraska-Lincoln and the University of Nebraska at Omaha. Only his mind was more on baseball than higher education.
"I was only interested in athletics and still am to this day as a matter of fact. I really did not have the kind of plan that I would hope my kids would have. I was not academically a good student but I think you could say I was more attuned to the practicalities of life. You might say I was street smart…"
A three-year varsity letter-winner at Omaha Central, he tried to play ball at UNL, he said, "but academically I wasn't taking care of business and physically I was too young to have an opportunity to be successful."
While school was hardly a home run, his experience trying to cobble together a college baseball career given him priceless insights. He also gained much from his friendship with two coaching legends — Eddie Sutton and the late Rod Dedeaux.
"I'm fortunate to have been very close to two of the greatest coaches in the history of sports."
Rosenblatt got to know Sutton when the then-Creighton University head basketball coach and his family moved across the street from Steve and his folks. The families remain close to this day. He got to know Dedeaux when the University of Southern California head baseball coach led his powerhouse clubs at the CWS.
"If I'd have known then what I learned from Rod I would have had a chance to have been a better baseball player," he said, "but at the time I didn't have that coaching-mentoring."
The ability to evaluate talent and to weigh options has made Rosenblatt a kind of scout and adviser for promising young athletes, especially Jewish athletes.
"I'm helping kids to try to get situated within athletics. I had a young Jewish kid and his father from Scottsdale, Ariz. go to Omaha to try to help him get set up collegiately. I'm making calls to some baseball people trying to help a young Jewish kid in Omaha who's a good ballplayer. People call me. People know that I kind of understand. I try to offer guidance to both the parents and the youngsters as to what could be in their best interests. That, to me, is fun."
Rosenblatt said it's not an accident he's drawn to strong, charismatic men like his father. After losing Johnny in 1979 Rosenblatt drew even closer to Dedeaux.
"He also was a people-person and a great communicator," Rosenblatt said of Dedeaux. "He learned the baseball business from one of the smartest men in the history of the game, a fella named Casey Stengel. That was his mentor. The two games he played in the major leagues Casey Stengel was the manager."
By the time Rosenblatt owned his own business — a sales and distribution outfit for corrugated package containers better known as boxes — Dedeaux and he were like father and son. They were also business associates.
"He was not only a good friend but one of my biggest customers. He had a trucking company with warehousing and distribution divisions. Multiple operations. It was really big. Make no mistake, he was a baseball person, but he was also a phenomenon in the world of business."
Rosenblatt parlayed his background in athletics by serving on the Chamber's Sports Commission, which had a similar agenda as today's Omaha Sports Commission.
"It was a matter of trying to do the things that make Omaha an attraction for new athletic environments," he said.
He described his work on the Omaha Royals Advisory Board as "an opportunity for the Royals management to hear from people that are looking at the franchise from perhaps a different standpoint." He's still tight with the Royals today. "The general manager of the Royals, Martie Cordaro, is a good friend. I meet with him literally every time I go back to Omaha to talk about what they're doing and how we can help them be successful."
Those enduring ties to the Royals keep Rosenblatt informed on the Triple AAA club's uneasy status in town. Principal owner Alan Stein is in ongoing negotiations with the Omaha Sports Commission and the Metropolitan Entertainment Convention Authority that will determine if the Royals strike a deal to play in the new downtown stadium or go play ball somewhere else. La Vista and Sarpy County are among the Royals' in-state suitors and Stein indicates out state communities are courting the team as well. Like any good businessman, he's playing the field.
"Well, I think he has to have that attitude," Rosenblatt said. "I've met with Alan and Martie. I know what they're thinking is. I've offered them my opinion of the situation. It will be interesting to see what develops."
Steve's personal connection to Rosenblatt Stadium and to the pro and college baseball tenants that have occupied it rather uneasily in recent years have put him in a Solomon-like position. He loves the CWS and how it's grown to become a huge event garnering national media coverage. His long association with the Series and his deep affection for the figures who made it special give him a unique perspective. He knows players, coaches, local CWS organizers and NCAA officials.
He sat in on negotiations between the city and the NCAA as a city councilman. "The city was a cooperative partner with the private sector in the production, basically, of the College World Series," he said. He played a similar oversight role as a county board member.
On the other hand he appreciates what the Royals offer the community and the compromises they've made to placate the city and the NCAA and the proverbial 900-pound gorilla that is the CWS. Just as he still talks with Royals officials, he bends the ear of NCAA officials, acting as a kind of intermediary between the two.
It all came to a head when the political hot potato of the new stadium proposed by Mayor Mike Fahey, and subsequently approved by the city council, sealed the fate of Rosenblatt Stadium. The new downtown stadium is being built expressly for the NCAA and the CWS. If the Royals do play there they'd be the ugly step-child who has to accept the leftovers from the favorite son.
Rosenblatt equates a Royals move from Omaha a loss.
"Well, I would because the original concept of the stadium that has Johnny's name on it was not initially for the College World Series, it was for professional baseball," he said, "Because of what has transpired with the emergence of the College World Series, it's now created what I would refer to as an unfriendly situation for professional baseball. There's no other professional baseball team in America that has a competitor in town called the College World Series. So it's awkward."
Even though he now takes an indirect role in such matters, he's keeping a wary eye on the downtown stadium project, whose estimated $140 million price tag he considers overly optimistic. He predicts it will end up costing $175-$200 million once all the dust settles.
Like many Omahans he's concerned that if the Royals don't play at the new stadium and no minor league franchise is secured in their place, the venue will sit empty 50 weeks a year and not be the economic catalyst or anchor for NoDo it's intended to be. This longtime proponent of a CWS hall of fame said the stadium would be an apt home for it and an Omaha sports hall of fame.
A CWS hall would acknowledge those who've excelled as players or coaches or been responsible for the Series' success. While he doesn't feel that venue would be much of a year-round draw he sees an Omaha sports museum as a turnstyle magnet "because so many great athletes have come out of Omaha. That would be very interesting, and if you could incorporate the two, that's a helluva an idea."
He also has a vested interest in seeing his father's name live on in the new stadium.
"In my opinion that would be wise and appropriate given the lengthy association that that name has had with college and professional baseball in Omaha. Hopefully the powers that be will have his name connected in some way," he said.
The stakes are rarely as high as they are with the stadium issue but he makes a practice of using sports as an ice breaker with people.
"Almost everything I've done business-wise, athletics has been a tool of taking care of business. My involvement in athletics is an invitation. If I happen to be calling on new customers and if they're knowledgeable in athletics, then I'm going to get their business, because I can talk it. If they're interested in the opera and the theater, I'm in trouble. So athletics is a great tool in communicating."
Athletics and business were not his only finishing schools for a political life. He gained valuable leadership experience as a Nebraska Air National Guardsman and as chairman of the Midlands Chapter of the Multiple Sclerosis Society.
"That was a very rewarding opportunity," he said. "Hopefully we did some good there. I had learned, of course, with my dad being afflicted with Parkinson's and my mother being afflicted with rheumatoid arthritis how devastating that can be. Being associated with the Multiple Sclerosis Society gave me an opportunity to contribute and to try to help people…"
Community service motivated his entry into politics.
"You try to get elected in my opinion to help people who perhaps don't have the ability to help themselves," he said, "because everybody needs help. Having the ability to collectively help people is the thing that gives you the most pleasure."
His political life has taught him some lessons. One is to be "leery" of any candidate who makes promises. "The fact of the matter is there's very little individually they can do because it takes a collective effort to get something done," he said. Any rhetoric about reducing taxes is just that. "That's folly," he said. "They'll be lucky if they don't have to raise taxes."
His action on some issues elicits satisfaction all these years later. One involved the Orpheum Theatre. Omaha's then-mayor, Ed Zorinsky, wanted it razed. Rosenblatt, a fellow Jew and key ally, went against Zorinsky to side with preservationists who wanted it restored. The conflict came down to a close city council vote.
"The Orpheum Theatre would not be around today if not for Steve Rosenblatt," he said. "I felt an obligation to the people of the city of Omaha to ensure that it remained for the use down the road. I was the swing vote on that. If that vote goes the other way it's gone."
A controversial decision on his council-county board watch was demolishing Jobbers Canyon to make way for the downtown ConAgra campus. "It was an emotional issue," he said. "I don't make decisions based on much emotion. I try to make them based on what I think is right." He said the project "was an absolute must because we as a community could not afford for ConAgra to go to Lincoln or somewhere out in the suburbs — one of the possibilities at the time. It needed to be downtown to be the initial thrust for the redevelopment of that area."
He encouraged then-mayor Bernie Simon to have the city match a financial commitment the county was making for the project. The city did. He said, "One of the things I had going for me was having been on the city council I retained a great deal of working relationships with people at city hall. The ability to transcend the workings of city and county government was helpful on a variety of projects."
He credits ex-mayors P.J. Morgan and Hal Daub with driving forward Omaha's growth by continuing city-county cooperation and public-private sector synergy. Under current Mayor Mike Fahey Omaha's makeover has been "phenomenal."
If Rosenblatt and his wife have their way, they'll eventually live in Omaha half the year. The Rosenblatt name could once again be center stage in the political arena.
Related articles
The College World Series underway in Omaha is a major NCAA athletic championship that attracts legions of fans from all over America and grabs gobs of national media attention. With this being the last series played at the event's home these past 60 years, Rosenblatt Stadium, there's been more fan and media interest than ever before, although a spate of rain storms actually hurt attendance at the start of this year's series.  Inclement weather or not, the series is a great big love-in with its own Fan Fest.  But it didn't used to be this way.  Indeed, for the first three decades of the event, it was a rather small, obscure championship that garnered little notice outside the schools participating. Omaha cultivated the event when few others wanted or cared about it, and all that nurturing has resulted in  practically a permanent hold on the event, which has strong support from the corporate community, from the City of Omaha, from service clubs, and from the local hospitality industry. Two key players in securing and growing the series have been a father and son, the late Jack Diesing Sr. and Jack Diesing Jr., and they are the focus of this short story that recently appeared in a special CWS edition of The Reader (www.thereader.com) called The Daily Dugout.  I have another story on this site from the Dugout — it features Greg Pivovar, one of the colorful characters who can be found at the series.
The Two Jacks of the College World Series
©by Leo Adam Biga
Originally appeared in The Reader (www.thereader.com)
In 1967 the late Jack Diesing Sr. founded College World Series Inc. as the local nonprofit organizing committee for the NCAA Division I men's national collegiate baseball championship. He led efforts that turned a small, struggling event into a major national brand for Omaha.
When son Jack Diesing Jr. succeeded him as president, the young namesake continued building the brand as Jack Sr. stayed on as chairman.
While the CSW is not a business, it's a growing enterprise annually generating an estimated $40-plus million for the local economy. More than 300,000 fans attend and millions more watch courtesy ESPN.
Papa Diesing was around to see all that growth, only passing away this past March at age 92. Jack Jr. said his father, who saw the event's potential when few others did, never ceased being amazed "by how it kept getting bigger and better. The phrase he always said is, 'This just flabbergasts me.'"
His father inherited a dog back in 1963. Jack Sr. was a J. L. Brandeis & Sons Department Store executive. His boss, Ed Pettis, chaired the CWS. The event lost money nine of its first 14 years here. When Pettis died, Jack Sr. was asked to take over. He refused at first. No wonder. The CWS was rinky-dink. Nothing about it promised great things ahead. The crowds were miniscule. The interest weak. But under his aegis an economically sustainable framework was put in place.
What's become a gold standard event had an unlikely person guiding it.
"When my father got involved with the College World Series he had never attended a baseball game in his life. He didn't really want to do it but basically he agreed to do it because it was the right thing to do for the city of Omaha," said Jack Jr. "Over a period of time he developed a love affair with not only what it meant for the fans but what it meant for the city and what it meant for the kids playing in it. He always was looking to do whatever we could do here to make the event better for the kids playing the games and the fans attending the games and for the community. And the rest is history."
Omaha Press Club caricatures of the Diesings by artist Jim Horan, Faces copyright @2011 Omaha Press Club
The son's affinity for the series started early and by the time the patriarch was ready to pass the torch, Jack Jr. was ready.
"I certainly grew up behind the scenes. I can't say he was purposely grooming me into anything. It's just that I was exposed to the College World Series ever since I moved back into town in 1975. I'd go to the games, I was involved in sports in school and still was an avid sports follower after I got back."
Diesing said the same sense of civic duty and love of community that motivated his father motivates him.
He still marvels at his father's foresight.
"One of the things people credited him for was having tremendous vision about how to set up the infrastructure and make sure we had an organization moving forward that would stand the test of time. And he thought it would make sense to carry on a tradition with his son following him, and that was another thing he was right about."
His father not only stabilized the CWS but set the stage for its prominence by partnering with the city and the local business community to placate the NCAA by investing millions in Rosenblatt Stadium improvements to create a showcase event for TV.
College baseball coaching legend Bobo Brayton admired how Jack Sr. nurtured the CWS. "I think he was the single person that really kept the world series there in Omaha. I went to a lot of meetings with Jack, I know how he worked. First, he'd feed everybody good, give them a few belts, and then start working on 'em. He was fantastic, just outstanding. It's too bad we lost him…but, of course, Jack Jr. is doing a good job too."
As intrinsic as Rosenbatt's been to the CWS, Jack Jr. said his father knew it was time for a change: "He could see and did see the needs and the benefits to move into the future. Certainly, I'm the first person to understand the nostalgia, the history, the ambience surrounding Rosenblatt. It's going to be different down at the new stadium, and it's just a matter of everybody figuring out a way to embrace the different."
Diesing has no doubt the public-private partnership his father fostered will continue over the next 25 years that Omaha's secured the series for and well beyond. He's glad to carry the legacy of a man, a city and an event made for each other.
Related Articles
Categories:

Athletics, Baseball, College World Series, Omaha, Pop culture, Rosenblatt Stadium, Sports, Writing
Athletics, Baseball, College World Series, Division I (NCAA), ESPN, Jack Diesing Jr., Jack Diesing Sr., Johnny Rosenblatt Stadium, National Collegiate Athletic Association, Omaha, Omaha Nebraska, Pop Culture, Rosenblatt Stadium, Sport, Sports, United States
UPDATE: Greg Pivovar's Stadium View Sports Cards store was left high and dry when Rosenblatt Stadium was closed and the College World Series moved downtown to TD Ameritrade Park, but he does have a presence near the new site courtesy a tent set-up. My story below appeared on the eve of the 201o CWS, as Pivovar, whose shop stood directly across the street from Rosenblatt, prepped for his last dance with the old stadium.
As the College World Series enters the stretch run of the 2010 championship, I offer this story as a slice-of-life capsule of the local color that can be found in and around the event and its festival-like atmosphere.  The subject is Greg Pivovar, who runs a sports memorabilia shop called Stadium View Sports Cards, across from Omaha's Rosenblatt Stadium, the venue where the CWS has been played for 60 years.  This is the stadium's last at-bat, so to speak, as it's scheduled to be torn down next year, when the event moves to the new downtown TD Ameritrade Park. The 'Blatt's last hurrah is inspiring all manner of nostalgic farewells. Pivovar will be sad to see it go too, but he's not the sentimental sort.  In fact, he's the cynical antidote to the otherwise perpetually cheery facade the city, the NCAA, and College World Series Inc. like to spin about the series, an event that Omaha has catered to to such an extent that there's a fair amount of skepticism and animosity out there. Pivovar loves the series and the business it brings him, and he loves serving in the unofficial role of CWS ambassador for visitors from out of state, but he's not Pollyannish about the event or the powers-that-be who run it. He just kind of says it like it is.  His blog, stadiumview.wordpress.com, is a hoot for the way he skewers sacred cows.
I have posted another CWS story about a father and son legacy tied to the event.
The Little People's Ambassador at the College World Series
©by Leo Adam Biga
Originally appeared in the The Reader (www.thereader.com)
Stadium View Sports Cards proprietor Greg Pivovar makes a colorful ambassador for the College World Series with his Hawaiian shirt, khaki shorts and blue-streak S'oud Omaha patter. This bona fide character champions "the little people who built" the CWS.
Enter his sports memorabilia shop across from Rosenblatt and his course, cranky, world-weary sarcasm greets you, his barbs delivered with a stiff drink in one hand and a cell phone in the other. He talks like he writes on his stadiumview.wordpress.com blog.
"A lot of it is funny and cynical, but a lot of it is from my heart," he said..
His shop's a popular way stop for CWS fans craving authentic Omaha. He's dispensed free beer since opening the joint 19 years ago. "It's meant as a gesture of friendship and welcome, not as, Hey, you want to stand around and get drunk here? Part of the ritual," he said. In 2006 he "took a cheap ass plea" on a ticket scalping charge he claims was bogus. He said the company he keeps is what got him in trouble.
"I have a bunch of scalpers who hang around here," he said. "They're friends of mine. I like them, they're an interesting breed of human being."
The arrest made headlines. A recent AP story that went viral called him a one-man CWS welcoming committee. Ryan McGee profiled him in the book The Road to Omaha.
"Famous…infamous, I've been both," said Pivovar.
His uncensored ways hardly conform to the Norman Rockwell image the NCAA prefers.
Pivovar, who also serves homemade barbecue and enchiladas during the CWS, and cooks up a mean jambalaya whenever LSU makes it, feels he contributes to a "festival atmosphere." Vendor and hospitality tents dot the blue collar neighborhood, where enterprising residents make a sweet profit charging for parking spots and refreshments.
The NCAA's tried distancing the CWS from the commercial, party vibe. A clean zone will be easier to enforce with the move to TD Ameritrade Park next year.
"Piv" likes a good time but acknowledges all "the temporary bars" can be "a negative," adding, "There's a few too many people coming down here just to get drunk, and that's not the idea. That sounds hypocritical coming from a guy who's given 40,000 beers away, but it really isn't. Most of my beers are given away one, maybe two at a time."
The Creighton University Law School grad and former Sarpy County public defender has a private practice he puts on hold for the series. This being Rosenblatt's last year, he's stocked extra beer for the record hordes expected to say adieu to the stadium.
His own ties to Rosenblatt go back to childhood. His collecting began with baseball cards, sports magazines, game programs, signed balls. He got serious after college, traveling to buy and sell wares. Eventually, he said, "my collection was pretty much overrunning my home. I'm a hoarder. I needed a place to store my hobby." Thus, the store was born, although he insists: "It's not a business, it's never been a business. I don't make any money at this, I never have. It's kind of like a museum."
Most of his million or so cards, he said, "are just firewood."
What business he does do largely happens during the CWS. Even then he said I "barely pay the bills." He doesn't know what he'll do after the 'Blatt's gone and the series moves downtown. "I'd love to carry my hobby down there but…If somebody comes and shits a couple hundred thousand dollars on my face it might happen, but other than that…"
If he closes shop, he's unsure what will become of his stuff.
"I don't even want to think about it. I suppose I could throw it all on e-bay and get a mere pittance for it. That's the way that works. So much of it has zero to such a narrow market, and I knew that going in. It's not like I was having any allusions of getting rich from this."
He's pissed about the "Blatt's demise and suspects the new site will usher in a sterile, elitist era.
"I'm a conspiracy theorist. What this is all about is developing that north area (NoDo) and wanting to give the zoo what they need. The bastards are taking my ballpark. Like I end a lot of my blogs, I've got so many days until my world's over. It's kind of like writing your own obituary."
At least he has his health. He's cancer-free after a bout with cancer.
The "Save Rosenblatt" t-shirts he carried have been replaced with ones reading: "To Hell with Rosenblatt, Save Stadium View."
Stadium View is at 3702 So. 13th St.
Related Articles
Categories:

Athletics, Baseball, Business, College World Series, Entrepreneurial, Omaha, Pop culture, Rosenblatt Stadium, Sports, Writing
Athletics, Baseball, Business, College World Series, Entrepreneurial, Johnny Rosenblatt Stadium, National Collegiate Athletic Association, Omaha, Omaha Nebraska, Pop Culture, Rosenblatt Stadium, Ryan McGee, Sport, Sports, TD Ameritrade Park Omaha