Archive for the 'Crime' Category
Like a lot of folks I have a wary attitude when it comes to the police and I'd rather only see them when I need them but I must say that the few encounters I've had with them have been positive. They obviously do an important and often thankless job and it's certainly one I wouldn't want to do myself.  The following Omaha Magazine feature from the mid-2000s profiles some distinguished Omaha Police Department officers at the time.  Some of them have since moved onto new positions.  I recall being impressed by these law enforcement professionals as individuals and as a group.
Dream Police
©by Leo Adam Biga
Originally appeared in Omaha Magazine
Devotion. Desire. Duty. The men and women in uniform with the Omaha Police Department share these qualities in performing their public service mission. Each has his or her own story of what led them into law enforcement and what keeps them there. Some followed family legacies, others became the first in their family to carry the shield. Some worked different careers before coming to OPD, others joined right out of high school or college.
However they arrived at taking the oath to protect and to serve, they all regard their work in blue as a calling they can't imagine their lives without.
Five OPD officers who've distinguished themselves on the job recently shared their stories. At a time when the department is still responding to last year's sudden, massive wave of retired veterans, these five represent the current and future leadership of OPD. They are Omaha's Dream Police.
Sgt. Anna Sewell
Dayton, Ohio native Sgt. Anna Sewell grew up an only child to a single mother who served as a volunteer neighborhood assistant officer with the Dayton police. Sewell cherished the close bonds of her small, cohesive family, whose ties she found the equivalent of in law enforcement.
"It was just something I was raised around and always knew," she said. "Were there other options? I'm sure there were. Did I ever consider them? No."
After high school she signed up for the law enforcement end of the Air Force. "I figured I would join the military and go see the world, and boy did I ever," said Sewell, whose service career continues as a reservist.
The globe-trotter finally settled at Offutt Air Force Base. After giving the business world a whirl she applied with OPD, she said, "as a challenge to myself." She passed with flying colors and joined the force in 1999. Being a cop felt right.
"We are in so many ways just like the military," she said. "We have that brotherhood, that sense of family — territory I'm familiar with."
About the time she entered the Omaha Police Training Academy she began accelerated studies at Bellevue University, where she made the Dean's list and Who's Who among college students. She graduated in 2000 with a bachelor's in human resource management. Already the first in her family with a high school diploma she became the first with a college degree. She's since earned a master's in management and is now working on a second master's in business.
The single Sewell is also an entrepreneur with her own security company.
"I'm basically breaking a whole lot of new ground in my family. In my mom's eyes I am the example for my cousins to follow, which is fine."
The Internal Affairs investigator reached the rank of sergeant in only six years. She learned of her promotion while in Iraq as a volunteer reserve medic.
The biracial Sewell said while her ethnicity has never been a barrier she feels she must work harder to stay competitive.
"As a minority I have to put my ethnicity and gender aside so that when you line me up I'm standing toe-to-toe right alongside everyone else," she said. "You always have to prove yourself as a female in a predominantly male work field. It's up to me to make sure I'm at the top of my game, that I'm not perceived as weak."
She's sampled many aspects of the department to prepare for her dream job. "Somewhere in my future there's an office up on this floor that has lots of windows," she said from the administrative suite. "It may not be top dog but it might not be too far. I'm thinking deputy chief."
Officer Dawn Chizek
It's easy for 24-year veteran Dawn Chizek to relate to the troubled kids she encounters as Millard South High School's School Resource Officer (SRO). She grew up in a "pretty dysfunctional family."
"I think the best police officers are people who've been a little on both sides. Empathy is probably one of the necessary requirements as a police officer. You've got to be able to put yourself in that situation and help effectively deal with that person and their need at that moment," she said.
"I tell kids all the time, whatever that situation is they're in, no matter how shitty it is, they can use it as an excuse to fail or as a reason to succeed. That's my mantra, it truly is. It's definitely about personal choice."
Chizek's hard times influenced her interest in being a cop. Why? "I think I saw a lot of injustice and unfairness in what I was dealt," she said. Being a cop meant she could "go out and kick butt, take names and save the world."
The Bellevue East High School grad attended the University of Nebraska at Omaha and applied with OPD. She made the grade and joined the force at 19.
"All the studies say I should been a high school drop out, but I wanted more. I wanted better than the surroundings and the situation I was thrust into," she said.
Proving herself was another thing.
"It was not easy," she said. "You talk about three strikes against you, try being a blond, female 19-year-old recruit in 1984. But they didn't know my story. I was much older than my years. I had a lot of real life experience."
She jumped at the chance to be Millard South's SRO, a job she calls "the most rewarding and fulfilling" of her career.
"This is where I live, this is where my kids go to school. I want to work in my community, where I have a stake in what happens. I want to have an impact where it means the most," said Chizek, who's married with two children.
Officially there to dismantle barriers between youth and police, she said she can be kids' best buddy, but "if they cross the line they know dang well I'm going to hold them accountable. I do make arrests. Just like in the real world we spend 90 percent of our time dealing with 10 percent of the population."
"I take very seriously my role here. I am very much in tune with what's going on out in the community because the kids talk to me and tell me what goes on on the weekends, and what happens on the weekends carries over to school."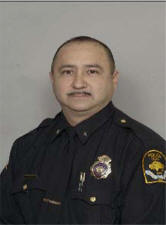 Capt. Mark Martinez
Police work is a family inheritance for Mark Martinez. His father Al retired after 33 years with OPD. An uncle was a cop. His brothers Al and John are cops. Four cousins as well. Yet he said it was not a foregone conclusion he would be, too.
"I really didn't know until I went to UNO and decided to study criminal justice," he said.
He acknowledges this lineage in blue gave him a valuable perspective.
"My father was always community-oriented, civic-minded, always a contributor. So I think I had an idea I wanted to be a public servant, which is much more than arresting bad guys," he said. "That attracted me."
The South High grad only entered law enforcement after getting his degree at UNO. He was a Douglas County Sheriff's Office crime lab technician before joining OPD in 1984. That same year he and wife Cindy got married. They have four children. "She's the rock," he said.
He terms his present duty as Southeast Precinct Captain "a dream job. I grew up in this precinct. I have family and friends here." He said his "passion and ownership for the area" allows him to "get more done. I know the importance of building a relationship between the police and the community. It's critical."
Being a Latino in a predominantly Latino district helps.
"I think it goes a long way when the captain has a Spanish surname. I think it's good for the people of our community. It's good for our youth. I think I have the advantage of being able to reach out and do some things to build that bridge. I think we're doing that."
Martinez is proud of being a trailblazer.
"When I first came on I think the highest ranking Latino was a sergeant. I really felt the need to set some goals and to try to achieve those goals and one of them was to get promoted," he said.
As the department's first Latino captain consider that mission accomplished. Along the way he earned a master's degreee. The Omaha Public School board member emphasizes school-police cooperation.
Retirement was an option last year but he stayed on for a reason.
"There's at least one other goal I want to achieve here," he said. "I applied to be chief and I didn't make the final cut but I'm still in line for promotion to deputy chief. We'll see what happens."
Officer Jonathan Gorden
Following the footsteps of a father (Michael Gorden) who logged 30 years with OPD, Jonathan Gorden felt the pull of police duty.
"Needless to say I grew up around the badge," he said. "It was in my blood and it never left me."
The 24-year-old just passed his first anniversary on the job.
"If you're signing up for the gunfights, chases and wild and crazy things, this isn't that," he said. "I found out real quick you're going to make a reputation for yourself more with a pen and paper than you are anything else. No investigation, no arrest is worth anything unless you know how to write a good report. It's absolutely crucial to every part of the judicial system."
The Creighton Prep-Creighton University grad draws on his education every day.
He tested the waters in the business world but a cop's life called to him. "I just knew in my heart it was something I had to try. Until I did try it I would never be satisfied."
His dad's experiences told him "it's not a normal 9-to-5. It's a lifestyle. You're a cop 24 hours a day and you're held to a higher standard by your employer, by your city, and because of that you have to hold yourself to a higher standard. It takes a complete commitment from your family" he said.
Every day on the job he learns something.
"The biggest thing as a young officer is learning to be patient," he said. "I've picked up from the veteran officers you have to let people vent a little bit. Emotions are usually pretty high and by just listening it does wonders."
He can attest that rookies are scrutinized.
"You're not immediately accepted into your crew and the job," he said. "You're definitely watched. Little by little, day by day, your skin gets a little bit thicker, you get a little more comfortable. It is a powerful bond being with ordinary men and women doing an extraordinary job. We're trusting each other with our lives and that's something you hold very dearly."
Commendations are nice, he said, but the real rewards come from proving one's self in the line of duty.
"Having your crew believe you're capable really builds confidence," he said.
Gorden has designs on one day teaching at the academy like his dad. He's also "intrigued by" the detective bureau.
Lt. Tim Carmody
Going from a broken home to successful husband, father and commander of OPD's Emergency Response Unit, Tim Carmody is proof one can overcome challenges.
"Even those negative environments can have a positive effect if you focus in the right direction," he said.
He feels his background gives him insights into people and their issues. Said Carmody, "It helps me understand things."
His path to law enforcement came via retail loss prevention work, which saw him identify and apprehend shoplifters for discount chain stores.
"I've always felt like serving people. I don't like people being victimized."
He studied criminal justice at UNO and Bellevue University. He first wore the badge at 22 as a deputy sheriff with the Sarpy County Sheriff's Office. He joined OPD in 1988. It's where he feels he's meant to serve.
"I know the city, I'm a home grown kid. I love serving this community. I believe in this place. It's a passion for me."
His OPD career has been everything and more he thought it could be.
"I've been blessed with some of the best jobs this department has to offer."
Today, as Emergency Response Unit commander, he oversees the SWAT, bomb response, canine explosives detection and Homeland Security teams. Much of his work involves collaborating with other agencies and disciplines. Cooperation is key. That goes for police-community relations as well.
"We can't do this alone as a department," he said. "Neighborhood associations, precinct committees — they are the key role players that help us understand what's going on and what needs to be done."
In the wake of so many OPD senior officers retiring he's preparing young officers for future leadership roles. "I'm trying to mentor and lead people more," he said, "and to share that knowledge to help them grow faster." He enjoys teaching, which he's also done away from work as a Boy Scouts Master and lay leader at his church. Faith and family are the anchors of his life.
"Spending time with my family and friends has a tremendous value in renergizing my batteries," he said, "and in just staying grounded. It makes a huge difference."
He needed that support after the Von Maur shooting last year. His command post was called to the scene and in the melee, he said, "everything's on auto-pilot — you're just functioning. Then, when I finally took a breath it all hit me, the reality of it all, and the people that died that day."
"Those are the things that you'll never forget."
He calls the special fraternity he's a part of "very fulfilling and rewarding. There's nothing that compares to it."
Related articles
 Henry Hill
When I read that former mobster Henry Hill, whose life informed the novel Wiseguy and the film Goodfellas, had left the witness protection program and was living an open life under his real name in North Platte. Neb., well let's just say I was interested.  When I learned a documentary had been made about him by some local filmmakers, it didn't take me long to get an assignment for a story.   I contacted the filmmakers, I obtained a screener of the film, but I never got to interview Hill.  He had skipped town for the west coast and was purportedly living as a derelict in Venice Beach.  So I was left with the portrait of Hill that the film and the filmmakers offered.  It's not a pretty picture.  The film and its makers portray Hill as an unreformed degenerate lost in the haze of alcohol and drugs.  That may be true, up to a point.  The confounding thing though is that Hill always seems to come out the other side of whatever mess he gets himself into and he obviously has the wherewithall and presence of mind to surface in all kinds of situations and places, rubbing shoulders with the rich and famous, ingratiating or buying his way into people's affections.  And he always sucks in media types for yet another telling of his mob rise and fall and his life in and out of hiding.  He clearly loves the attention.
Hill is, if nothing else, a survivor and an egoist playing off his infamy.  Once a snitch and con, always one.  It just may be he's every bit the actor that Ray Liotta, Robert De Niro, and Joe Pesci are and he's just doing what he's always done – putting it over on The Man or The System or anyone and anything else he can scheme or dodge or manipulate to his advantage.  That said, I would have loved to have met and interviewed the guy.  As it turned out, a couple years later I met someone very much like Hill in the figure of Clyde Waller, whose story I tell in the piece "Omaha's Own American Gangster" on this blog.
A Degenerate's Work is Never Done: A New Film Examines Mob Informant Henry Hill, Whose Story Informed the Book 'Wiseguy' and the Film 'Goodfellas'
©by Leo Adam Biga
Originally published in The Reader (www.thereader.com)
When Lincoln, Neb.-based film producer Ron Silver learned mob informant Henry Hill left the U.S, Marshal's witness protection program to live in North Platte, he went there hoping for the kind of inside mafia stories Hill furnished author Nicholas Pileggi for the book Wiseguy; Martin Scorsese adapted t into the film Goodfellas. Instead, Silver and director Luke Heppner found an unreformed derelict as the portrait for their new documentary Shooting Henry Hill. The film premieres tomorrow at 7 p.m. at the Mary Riepma Ross Media Arts Center in Lincoln.
Facing serious jail time for illicit drug trafficking and organized crime activities, Hill turned state's evidence on the Lucchese crime family, of which he was an associate. In exchange for testimony that put away major bad guys, he and his family lived in various locales under assumed names. Kicked out of the program for drug-alcohol incidents, some violent, he was always reinstated. His screw ups finally led he and the feds to part ways. He took back his real name. When Kelly, a woman he was involved with, moved from L.A. to be near family in North Platte, he followed in 2004. Divorced from his wife Karen, with whom he has two children, he married Kelly. He soon got in trouble again for possession of cocaine and meth.
The broken man Silver found working as a cook at The Firefly restaurant in 2005 was ready to spill his guts, just not about the mafia. Silver said Hill, 63, agreed to be the subject of the film on one condition — it focus on his addiction, not his gangster past. Ray Liotta's portrayal of a strung-out druggie gave a glimpse into Hill's addict lifestyle. Still, Silver wasn't prepared for the "wreck" of a man he met.
"I was surprised…disappointed…shocked a man his age was still faced with these addictions and was still acting out in this immature, reactionary way," said Silver, a veteran theater actor-director-producer originally from L.A. "We imagine these guys as tough and fearless and powerful and dapper and he wasn't those things and I'm not sure he was ever any of those things."
Ironically, he said, it wasn't so much the mafia life that hurt Hill and his family as it was his own degenerate behaviors.
The film introduces us to Hill drunk, his usual state of being. As the film progresses, he's seen more and more sober.
"We made the decision to show Henry Hill in the order of how we experienced him," said Heppner, an Omaha resident with local music videos and television credits to his name. "He was drunk basically the first few times we taped him. He was at the bottom of the barrel. When we very first see him in the film he's fragile. As the film goes on you begin to see more of a stronger person. He looks completely different at the end than at the beginning. It's the story Henry wanted to tell. It shows his life as a struggle. After all these years, this is who he is."
The Many Faces of Henry Hill
On the first day of shooting "the star" was wasted, but Silver said when he suggested postponing things so Hill could dry out, Hill "kept saying over and over, 'This is who I am.' I think Henry felt by not hiding it, he would help people. And I thought by showing it we were just being honest."
As filming proceeded last spring Heppner said the small crew got "sucked in" to the chaos and dysfunction of Hill's life. "While we shot the movie, his wife (Kelly) left him, his friends betrayed him, he was assaulted, he was evicted, he was arrested. All these things happened," he said. "We talked about how shooting Henry Hill is almost like making a wildlife documentary. We went out filming this (wild) creature going about his business" in a habitat full of intrigue and conflict. Silver said Hill's wild mood swings, binges and nervous agitation make him difficult to capture.
The further they were drawn into his user ways, the crew found themselves part of the drama. "We went to be observers and ended up getting pulled into the story," Heppner said. As a result, the filmmakers decided to insert themselves in the film in a fairly obtrusive manner. Silver, his wife Heather and Heppner comment at various points in the film on Hill, the unfolding madness and their reactions to it.
"It was a tough decision," Silver said. "We realized we had crossed over into the ultimate intimate of his life. We experienced this together with Henry. We had part of the story to tell. We could fill in the blanks. We knew the audience would be reacting as we did. It made us uncomfortable, too. We felt we could let the audience off the hook by letting them know we felt very much as they do."
A melodramatic framing device at the open and close of the film shows Silver seated on the porch of his house at night, speaking in hushed, weary tones. In these black and white scenes Silver intimates events have dragged he and the crew down. The closing scene, which ends the doc, has Silver holding an absurdly large hand gun as he informs us he's been threatened by one of Hill's enemies.
Ray Liotta as Henry Hill
"Honestly, we were in a very dark place when we wrapped filming. I think the black and white is how we felt. Someone threatened to toss a grenade into my home. It's one thing to know somebody wants to kill you and it's another thing to know they can," said Silver, referring to Dale, a felon now serving a stretch in Leavenworth.
As Silver found, getting involved in Hill's life means dealing with the detritus that attends him. "It kind of takes over for awhile," he said. Silver said Hill, released in 2005 from the Lincoln County (Neb.) jail to do an interview for Warner Brothers' DVD reissue of Goodfellas, somehow gets people to overlook his misdeeds. Some celebs, notably Howard Stern, court him. It's unclear who's exploiting whom.
"People tolerate things from Henry they wouldn't tolerate from their neighbor or a friend. I don't know why," he said. "I never felt that way. I never adopted Henry. I wasn't going to be his baby sitter, and he kind of needs one, and when he doesn't, he kind of spirals out of control. I would never be that guy. So, when he asked for money, I didn't give him any. I gave him good advice."
Silver still keeps in contact with Hill, whose problems persist. Some months back Silver said Hill was arrested in California for chugging booze he didn't pay for in a grocery store, a crime that due to his priors brought a felony sentence of 10 to 15 years. A judge ordered Hill into rehab, which "he walked out of," Silver said. Ordered back, Hill no sooner checked in than bailed out. Silver's tracked him down to Venice Beach, where he said Hill's in sharp decline.
"He's in horrible condition. He's just a fragment of even the guy you see in the film," Silver said. "Barefoot, bearded, dishelved, sleeping on park benches. Henry's on edge. I'm afraid he'll get picked up soon and do his 10 to 15 years. But prison would be a good place for him right now. I think it might save his life. I am going to find him and hopefully he'll clean up. I won't abandon him as a friend."
Silver's considered the possibility Hill has "a death wish." Why else would a man the mob wants whacked put himself out there in such a visible way? "I don't think doing the film was his death wish," Silver said. "I asked him about it. He said, 'It (a hit) can still happen. But, look, if I live as Henry Hill and show people I'm not afraid and I become a public person, they wouldn't dare.' But he does have a death wish and I really do believe he's killing himself slowly" with "his self-destructive behavior."
There's also a chance this is just an old con's dodge, as Hill capitalizes on his mob persona via books, TV appearances and product lines. "I thought about that," Silver said. "He is a con man…they function on…manipulation. But he's not faking being a drunk and he's not faking the pain he feels about his life. It's a sad story. What's hard for Henry is he has a conscience. He's haunted."
While he doesn't feel it excuses Hill's criminal past, Silver regards him "a hero" for ratting out the mob. "Henry always wanted out. Yeah, he did it to save his skin, but I believe people are alive today because of what Henry did," he said. Besides, Silver said, the only thing Hill gained as a snitch, other than fame, was "a life in hiding." One good thing, Silver said, is he did protect his family. His relationship with Karen is strained, but he's on good terms with his grown kids, Gregg and Gina Hill, whose book about growing up underground, On the Run, Silver calls a "great read."
Shooting Henry Hill will screen at the New York International Independent Film and Video Festival in September. Now weighing distribution offers, Silver's at work on an Omaha screening.
Related articles
Categories:

Crime, Documentaries, Film, Writing
Henry Hill, Joe Pesci, Luke Heppner, Martin Scorsese, Nicholas Pileggi, Ray Liotta, Ron Silver, Shooting Henry Hill
David Hall is a born entrepreneur, and if savvy instincts and good intentions mean anything then his newT-shirt design and screen printing  business SweeTees should flourish. But the cold reality of business doesn't much care about whether one's heart is in the right place or not. The following short piece I did about Hall for The Reader (www.thereader.com) appeared not long after a senseless act of gun play disrupted his previous venture, Terri Lynn's Coffee Shop, injuring several and scaring many more, and not long before business fell off so badly that he was forced to close. Terri Lynn was his late sister, who herself fell victim to gun violence. The T in his new SweeTees is for her. In addition to his sisters, Hall's lost others close to him as well to reckless gun violence. He's trying to do what he can to succeed while paying homage to Terry and giving young black men in the community a positive role model to follow. I am not alone in wishing him well.
David Hall
After Night of Violence, Downtown Coffee Shop Owner Ponders Venue's Future
©by Leo Adam Biga
Originally published in The Reader (www.thereader.com)
Terri Lynn's Coffee Shop attracted a corps of regulars to its inviting 1618 Harney Street digs before an act of violence changed things. Now, business has slowed to a crawl and owner David Hall is left wondering if the venue, named for his late sister and meant as a safe haven for inner city teens and young adults, can last.
It all went down the evening of Friday, May 13, when a private graduation party turned real life fright night. About 60 people were there when a fight erupted inside. Hall, security staff and chaperones removed the troublemakers and the party resumed. Later, gun shots fired from outside riddled the place. In the ensuing chaos, eight people were injured. One was shot. Some $2,000 in damage was done to the shop, whose register was looted. A week later, an arrest was made and the incident became another statistic in Omaha's black-on-black crime wave.
Despite taking precautions, Hall feels he was "naive" not requiring a "mandatory guest list. The kids that caused the trouble just slid in," he said.
The events shook Hall to his core. He couldn't sleep that night. He couldn't bring himself to visit the shop that weekend. He contemplated closing for good.
"I felt like a ton of rocks got dropped on me, man. I was so discouraged," he said. "Then I prayed on it and went to church and it felt like a weight was lifted off my shoulders. Everybody came up and they hugged me. I thought they were going to blame me more than anything. But my pastor and my community told me, 'Don't quit.' That's what made me not give up. They wouldn't let me quit if I wanted to."
Besides, he said, "Something is telling me, Why penalize all the good kids that come in here for the acts of a few?" Terri Lynn's had become a live music and dancing hot spot. Hall said there'd been no serious problems until the shooting. He sees what happened as part of a larger, city-wide problem with youth violence.
He has reacted strongly to the shooting because it struck so close to home. His only sibling, Terri Lynn Hall, was fatally shot with her boyfriend in 1994. That same year alone, Hall said, he lost five friends to gun violence. This most recent event was a slap in the face to a man trying to "be part of my community." The negative pub hurts a fragile business that's been at its present location just since last fall. He said he faces enough hurdles already as a black small business owner in a white district. Add the fact he's one part of an interracial couple — his wife Carol is white — and he feels things are stacked against him in a town obsessed with race.
Although an aberration at what's been a calm spot, he's afraid the incident brands his place a hazard in the public's mind.
"I'm a young black dude, man, and it's hard to beat some of the stereotypes thrown my way. I'm already one of the few minority owners downtown. I didn't know if people were going to see through all of that — a black on black crime — and be open-minded to what I'm trying to do here," said Hall, an Omaha native and nephew of Charles Hall, proprietor of North O's now defunct Fair Deal Cafe.
In an effort to make sense of the violence and to dispel perceptions about Terri Lynn's as a dangerous place, Hall held "an old fashioned town meeting" there on May 28. The event offered an open forum to discuss the violence and sought donations to help Hall recoup his losses and to pay medical bills of those injured in the melee. Less than two dozen people attended — most of them family and friends. He was discouraged, but he's not ready to give up on his dream yet.
"I talked to the police and city, and they don't want me to quit. They want a place for young people to go. They don't want them to run the streets. That's what I wish I would of had. That's what I wish my sister would of had," said Hall, who plans hiring uniformed officers at parties and installing more surveillance cameras.
"Since Terri passed, I've always tried to have a way for her to live on through my life. This is my passion. This is what I want. But as much as I want to be here and to make this work, it's about dollars and cents now. We were already just getting along, but since reopening May 18 it's been slow. I've refunded six parties we booked. If we don't have the public coming here supporting the cause, we can't make it. We'll remain open as long as we can afford to. I've got my rent paid for June, so we're good for 30 more days. Check back with me then."
Related articles